What Candace Cameron Bure Eats to Stay in Good Shape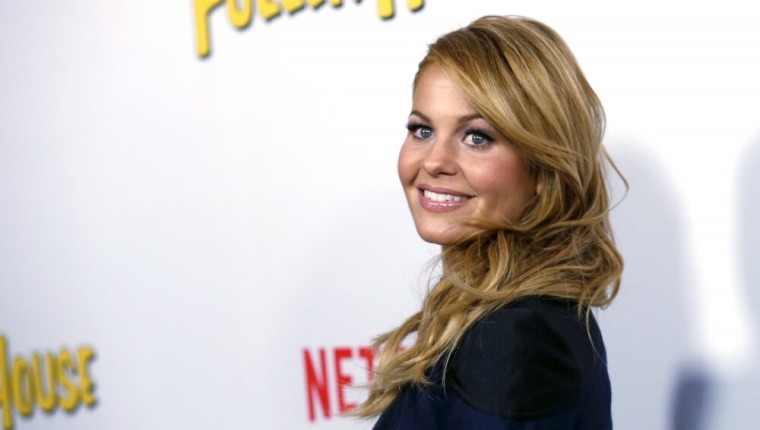 Actress Candace Cameron Bure has maintained a fit and youthful appearance thanks to a disciplined health regimen.
With a demanding bi-coastal schedule that includes constant public scrutiny as a panelist on "The View" and a co-star on "Fuller House," Bure uses her health-conscious father and longtime actress Marilu Henner, who has also authored a fitness title, as inspirations to stay in shape.
The 40-year-old actress recently revealed a few secrets that could be the key to how she stays so healthy-looking and fit.
"Like most women, I fuss about a few things I wish I could change," Bure recently told Cosmopolitan.com. "I am at my best weight and fitness level considering my lifestyle."
In a nutshell, Bure maintains a vegan diet — beans, whole grains, nuts and seeds — except for a rare piece of fish, egg whites, and times when vegan options aren't available.
The actress also said that she eliminated dairy from her diet and credits the change for decreased inflammation throughout her body. She also claims the elimination of dairy helped to resolve her irritable stomach issues, and cured her chronic congestion and cough.
Bure shared meal details about a not-so-average day when she once flew from Hawaii to New York for the wedding of a friend, starting off the day with a breakfast of a protein shake made with almond milk and a banana, and coffee with almond milk.
For lunch, the actress planned ahead so that she wouldn't have to eat plane food, grabbing a meal of an ahi poke bowl with brown rice and cabbage in coconut milk, her favorite "healthy lunch," from a restaurant on the island of Maui.
During the 12-hour flight, Bure said she snacked on a banana and drank plenty of water — limiting her food intake and consuming no alcohol. " ... My body reacts to salty food and alcohol by puffing up immediately," she said.
During a layover in Los Angeles, the actress enjoyed a kale salad complete with quinoa, avocado and tomato at an airport restaurant. Once back in the air, Bure slept for the remainder of the flight and drank water.
Mornings on the set of "The View," Bure reaches for a cup of coffee and her go-to protein shake made with a banana and almond milk.
For lunch, the show co-host said, "When I work on 'The View,' I get to order lunch from a restaurant of my choice. Today, it was a kale salad with edamame, quinoa, and veggies, dressed with lemon and olive oil from Juice Press. I almost always order a salad, just mix it up with different restaurants and ingredients — sometimes sweet potatoes and steamed vegetables."
Snacks for the actress include apples and vegan protein bars. The protein is to have sufficient energy for a workout session with her trainer, Kira. Although Bure says that she works out on her own five days a week for an hour, sessions with her trainer can run up to two hours.
"She always incorporates a unique combination of functional movements, resistance training, and cardiovascular conditioning, using free weights, body weight, gliders, and portable equipment like jump rope, resistance bands, BOSU, and weighted balls," said Bure of her trainer.