'What We Saw in San Bernardino, Paris Is Beginning of a Third World War,' Vicar of Baghdad Argues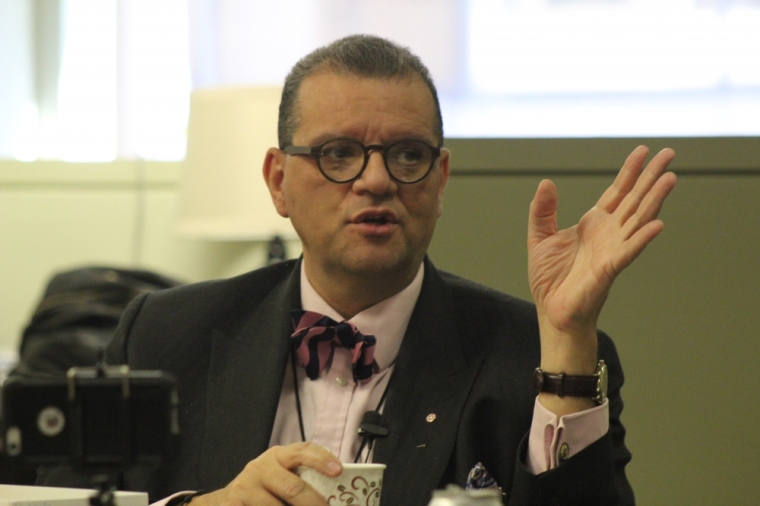 WASHINGTON — Deadly terrorist attacks like the one in Paris last month and the one in California on Wednesday are indications that a third world war is on the horizon, the Vicar of Baghdad argued Thursday.
Canon Andrew White, who was the only Anglican Vicar in Iraq when the Islamic State terrorist organization rose to power in Iraq and Syria, spoke at a lunch discussion hosted by the Washington-based Institute on Religion & Democracy and explained that Muslims, Christians and Jews need to work together to support the persecuted refugee communities in the Middle East and combat extremist ideologies that are causing society to "fall apart."
In the wake of Islamic State's attacks in Paris that killed over 130 civilians and injured over 350 others in November, terror struck in the United States on Wednesday when two gunmen, one of whom was believed to have been in contact with domestic and international Islamic extremists, shot up a social services building in San Bernardino, California, and killed 14 people and injured 21.
While most people in the West have had the luxury of hearing about heinous acts of terrorism by IS and other extremists in the Middle East from afar, White argues now that terror is striking in the heart of Western nations with some regularity, the world is entering a time of war.
"On a day after those events in California yesterday, those awful, terrible events, we realize that the destruction of religion is not just over there, [in the Middle East], it's here where you are," White contended. "What we are seeing going on, what we saw in Paris, what we saw yesterday in California, is, as far as I am concerned, the beginning of the third world war. It's unlike any concept of war we may have had before. Society is falling apart. It's not just Iraq that is broken — It is society."
Although IS has been at the forefront of the world's terror concerns in the last two years, the 51-year-old England native stated that IS is not solely to blame. He said the larger problem facing the world is not the rise of IS, but the rapid rise of radical Islamic extremism throughout the world.
"We talk about ISIS, and it is easy to blame ISIS, ISIL, DAESH, or however you want to call them, for everything. But, they are just part of the problem. The problem is far bigger than one extremist organization," White, who fled Iraq last year because of death threats from IS, reasoned. "That one extremist organization will have influence throughout the world and so many people are now looking to that group as a means of salvation and a means of identity. Why? Because they, as Muslim, have lost influence and lost power."
White, who is now residing in Israel and has been visiting the U.S. and Canada for the last couple weeks, said that some Sunni Muslims in Iraq were driven to extremism because they felt as though they have been marginalized.
"Every terrorist group has lost something," White said. "These people were in Al-Anbar, were in Ramadi and Fallujah, and they lost any significance under the Maliki regime. ... And so, when Maliki fell, they fought back and they have fought to show they have power. How do they show they have power? By blowing up people and killing them."
"Do you know who they are killing most?" White asked. "The people they are killing most are not even the Shiite, it's now Sunni Muslims. It's not just that group against the Christians. Yes, they do kill so many Christians, so many Yazidis."
As millions of Christians, Yazidis, and Muslims have been driven from their homes in Iraq and Syria, White said it is vital for Muslims and Christians to unite in order to help each other and those in need.
"I want to make that clear, as the world goes on about how evil Islam is, whether you like it or not, my biggest partner is Muslim and we have to work together, not against each other," he said.
White explained that one of his most important partners working in Kurdistan to support the persecuted refugee Christian community is a Muslim dentist named Dr. Sarah Ahmed, who is the executive director of White's Foundation for Relief and Reconciliation in the Middle East.
"She is there protecting all of the Iraqi Christians. You never hear anything about it in the news but you hear about the work I am doing. The work that I am doing is being done by a Muslim caring for the Christians," White stated. "We think and hear about Islamic terrorism all the time. What about Islamic people working for the protection of Christians? I mean, she is feeding thousands of Christians. She is working for them in the refugee camps."