When Planned Parenthood Attacks: How a Pro-Life Mom and State Rep. Lost Her Seat Serving North Dakota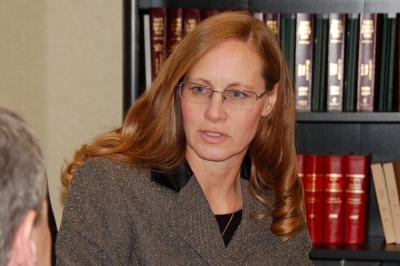 Bette Grande never planned to be a legislator. Concerned about what her children were being taught in school, this mother of three first ran for the local school board. She ended up serving the people of Fargo, North Dakota as state representative for 18 years.
In addition to her work on state budget issues, Rep. Grande became known for her outspoken defense of pre-born lives. Her legislative efforts caught the attention of Planned Parenthood.
State Representative Grande made national headlines as the author of the Human Heartbeat Protection Act, passed by wide majorities in the State Legislature and signed by Governor Jack Dalrymple (R-ND) in 2013. A lawsuit from Planned Parenthood state affiliates quickly followed.
On Wednesday, after a years-long court battle, the 8th Circuit Court of Appeals ruled the state law unconstitutional; however, the decision urges the U.S. Supreme Court to reconsider precedent considering "…an unborn child possesses a detectable heartbeat."
Bette Grande will not be responding from the floor of the House Chamber, as in years past. She lost her seat in the 2014 election. According to Grande, Planned Parenthood "poured close to two million dollars" into North Dakota and tagged issues ads with Grande's name – sealing her narrow defeat.
Since then, she and her husband Don have enjoyed spending time with their new grandson while she also serves as a research fellow at The Heartland Institute. Speaking via phone from her office in Fargo, Grande discusses her record as state representative and offers her perspective on how to advance the defense of life.
Bound4LIFE: What is your reaction to the ruling this week by the 8th Circuit Court of Appeals, essentially repealing the North Dakota Human Heartbeat Protection Act which you authored?
Bette Grande: While the 8th Circuit Court of Appeals affirmed the lower court opinion that North Dakota's Heartbeat bill is unconstitutional, the judges were almost apologetic about it. The full body of this new opinion is very positive for defending life, including pro-life laws enacted in North Dakota.
Let me read it straight from the ruling: "Good reasons exist for the Supreme Court to reevaluate its jurisprudence," the judges state. "The viability standard discounts the legislative branch's recognized interest in protecting unborn children."
They are saying that "one size fits all" abortion policies that began with Roe v. Wade are unworkable. With the strong difference of opinion on abortion throughout this country, the U.S. Supreme Court needs to reconsider its stance to reflect the people's will – which is ultimately what the Constitution and separation of powers demand.
What happens now with this lawsuit is anyone's guess. I trust state leaders will consider all options. But one thing is clear. With a focus on pain-capable legislation and other laws centered on life in the womb, the protection of life at all stages is gaining ground.
Bound4LIFE: As a North Dakota state legislator for 18 years, tell us a little of your story. What inspired you to first run for public office?
Bette Grande: My interest in public office did not come willingly; it had to be a solid push from the Father Himself. I did not consider myself a public speaker, so being out in the public square wasn't something I had considered. I had been involved in politics behind-the-scenes, working on campaigns for people I believed would adhere to the value system I had.
When my children were young, I became concerned with how some things were handled in their elementary school – issues of what was being taught to my children. I thought, I should be involved on the school board, that sounds simple enough.
I lost that local race, but soon after that my legislative district came to me and asked if I would fill a soon-to-be-vacated seat of state representative.
We prayed as a family about whether running for the State Legislature was right for us. Public office is not a task anyone should undertake unless they have full support of their spouse and family. The attacks do not stop at my back; it comes to everyone. My husband was supportive right from the start.
As I went to family members, I asked my dad what he thought. At first he said, "No." When I asked why, he said he "did not want to hear people say bad things about my baby girl. You've got to have thick skin, not everyone is going to be nice to you."
That surprised me because he had taught me to stand up for myself. I responded, "Dad, you taught me to have thick skin." The first two years were not as difficult for me as they were for the kids.
The more vocal you become, those who oppose you tend to attack you. For me, having thick skin is Ephesians 6 – as long as I have on my armor, my skin is thick enough. There was a team of intercessors who covered everything I did in prayer.
That is why I felt I could take on the tasks that were laid out before me. One of those, sparked from a passion for my own children, is a passion for saving babies and life issues as a whole.
After 10 years on staff at The Heritage Foundation and Focus on the Family, Josh M. Shepherd currently serves in communications at Bound4LIFE International – a faith-based pro-life group. Reprinted with permission from Bound4LIFE.