Where Should Christians Stand in the Washington Redskins Nickname Controversy?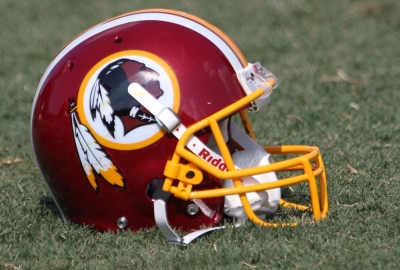 While 2013 is not the first time in the 80-year Washington Redskins history that the team has encountered criticism for their nickname, its critics may be the most prominant and loudest yet. In the past six months President Barack Obama, sports commentator Bob Costas, and 10 members of Congress have called on the team to reject its nickname, arguing that it racially slurs Native Americans. Slate and The New Republic have said they will no longer refer to the team as the "Redskins" and the Oneida Indian Nation has released radio ads criticizing the name — though some stations have banned the commercials.
Donnie Begay, who is Navajo and works with Native American college students with Nations, Cru's Native American focused campus ministry program, believes that Christians ought to join the chorus calling on the Redskins to change their name.
"I think Christians should be concerned because it's how we love others and how we treat others, not just in what we do, but in what we say," Begay told The Christian Post. "I think Christians could be at the forefront of righting some of the wrongs. Everything I've read, even the secular people, say it's the right thing to do."
Doug Pollock, a 30 year affiliate with Athletes in Action, an organization focusing on sharing the Gospel through sports and also under Cru, agreed that Christians should participate in the conversation but suggested that the Redskins' name, rather than demeaning Native Americans, could imply a particular veneration for them.
"My sense is that we have just lost our common sense and this topic would be an example of that. You don't go out and look for a mascot or name for your team that makes your team appear weak or look like a loser," Pollock told The Christian Post. "I can't think of anything in its original context that would show a sign of great admiration than for a city to name its team than for whatever it chooses to name if after. There is usually value or something to that, that speaks of high esteem, not something that was meant to be derogatory to them."
Begay, who calls the term a "derogatory term" and "racial slur," dismissed claims that using it for a sports team was a way of showing respect for Native Americans.
"When people say that they are using the name to honor Native Americans, it also leaves the gate open to racism in calling [a Native American] that," Begay said. "It also leaves the door open for caricatures."
Pollock admitted that the nickname should only stick if those whose name were used felt comfortable with it, but said that it was important that "common sense" prevail.
"If people of the certain ethnic heritage have come to a place where they find it repulsive, where they become indignant over the whole thing, then I think out of sensitivity we need to take a look at it," he said, adding that he was uneasy that the conversation was being motivated by a "PC movement" making some individuals "afraid to stand up and share some commonsensical views."
"I'm assuming there has to be some [political correctness] in the background, but that's just a bigger bias that I have about what is going on in our culture...I don't know if that is what is at the forefront of the Redskins' conversation," Pollock added.
Mark Charles, who is Navajo, and a consultant and activist on Native American issues, identified that one of the underlying issues of the Redskins' controversy, was Americans' ignorance of Native American history and present situation.
"The goal of the founding fathers of this nation was to marginalize Native Americans, either to destroy us or to marginalize us to such an extent as to not see us in the daily workings of the nation. By and large they were successful," said Charles.
"Most citizens of the United States are largely uniformed or ignorant about Native Americans because we're not a part of the mainstream conversation going around the nation….Our nation wouldn't allow a name for a professional sports team that was derogatory or even perceived as derogatory towards another ethnic group, but Native Americans are marginalized to the extent of which it's allowed to happen for our community," he added.
Charles also affirmed that Native American issues should be considered by American Christians because the history of both often overlapped.
"I think Christians and people of faith should care because so much of the history of the church is linked with the policies of our government and with the popular notions of the culture," said Charles, citing theology supporting Manifest Destiny and Christian Native American boarding schools as an example.
Shirl James Hoffman, author of "Good Game - Christianity and the Culture of Sports," said that while he would suggest the name change "just on general courtesy grounds," there are larger, more systemic issues in the sports world in which he believed Christians should engage.
"Frankly, I think the NFL poses much more important issues to the evangelical community than the character of the mascots they use to promote their teams, issues which evangelicals seem uninterested in addressing," said Hoffman in an email. "The unspeakable violence and the orchestrated effort by the NFL to sell it, the disconnect between the ethic of unbridled competitiveness, and the almost suffocating materialism that pervades not only the NFL but most of our high level sports all would rate a higher place on pressing problems that the church could deal with."
The origin of the term "Redskins" is unclear, though Ives Goddard, a linguistic scholar at the Smithsonian Institution, has argued that Native Americans self-identified as "Redskins" early on in their relationships with white settlers. But historians say the word lost most of its original innocuousness by the end of the 19th century and beginning of the 20th century as books and essays began to use it as a demeaning term in articles and books.