White Evangelicals Voting for Trump Represents 'A Crisis in The Church,' Jim Wallis Says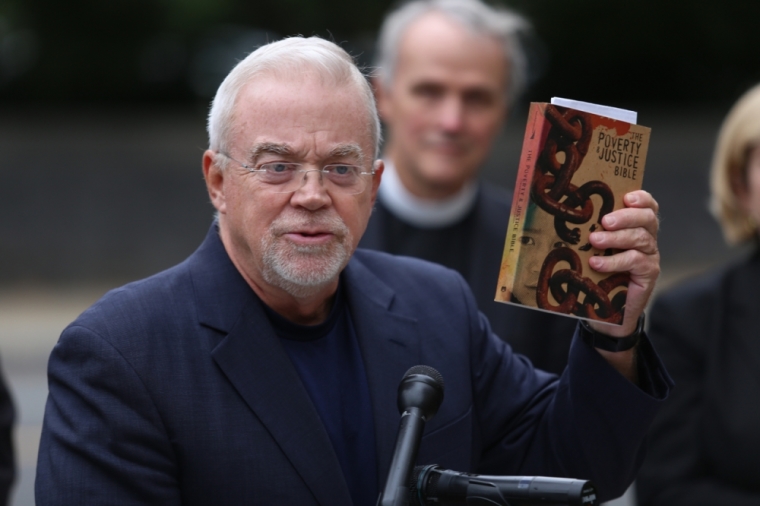 Exit polls showing that 81 percent of evangelical voters and a majority of white Christians voted for President Donald Trump in the 2016 election represents a "crisis in the Church" and shows that the Church is more racially divided than ever, the Rev. Jim Wallis has warned.
Wallis, who heads the progressive Christian social justice group Sojourners and is also a research fellow at Georgetown University's Berkley Center for Religion, Peace, and World Affairs, told The Christian Post in an interview on Wednesday that evangelicals and Christians who voted for Trump are "responsible" for his presidency and any "racist" policies that might come out of the Trump administration.
While Wallis told CP that it is clear that the Trump campaign relied upon the stoking of "racial bigotry" to propel him to the presidency, exit polls show that about 81 percent of evangelical voters, 60 percent of Protestant voters, 52 percent of Catholic voters and 55 percent of "other Christian" voters voted for Trump, while 88 percent of black exit poll respondents and 65 percent of the Latino respondents voted for Clinton.
"He turned legitimate economic resistance among white working class and rural constituencies into racial resentments, blaming immigrants, blaming a black president, when the source of their problems had been ignored by the Left and the Right and the elites of both sides," Wallis, who released a paperback version of his 2016 book America's Original Sin on Tuesday, said. "It had to do with trade deals, that I also opposed, and also technology and robotics and serious complicated issues that we haven't cared about."
Wallis was one of a number a number of progressive Christian leaders who signed onto a declaration opposing Trump last summer titled "Called to Resist Bigotry — A Statement of Faithful Obedience," which argued that the "direct appeal to the racial, religious, and gender bigotry that is always under the surface of American politics is now being brought to painful public light."
When pressed on how Trump relied on "racial bigotry" in his campaign, Wallis explained that Trump began his political career denouncing immigrants — calling them rapists and criminals — calling for a "Muslim ban," saying that the key to racial healing is "law and order" and "stop-and-frisk" policing and picking Breitbart executive Steve Bannon as the CEO of his campaign and now his administration's chief strategist. Many opponents, including Wallis, have accused Bannon of being a White nationalist.
"Christians and evangelicals did overwhelmingly vote for Donald Trump. Now Donald Trump has institutionalized his rhetoric," Wallis said, decrying his recent immigration crackdowns against "god-fearing" undocumented immigrant parents and his selection of "anti-immigration" Jeff Session to be attorney general.
Wallis claims that Trump's call for "law and order" and "stop-and-frisk" policing will lead to even more "racial policing" than what exists now. Wallis also argued that Trump's claims of systematic voter fraud carry with them the goal of disenfranchising black voters.
"We keep ignoring, as white Christians, all day long what black parents feel, what black pastors feel. But these are the realities now because white Christians set aside these issues to vote for Donald Trump," Wallis said. "We have a crisis in the church because racial rhetoric and racial bigotry was used and ignored by a majority of white evangelicals. Now, he has appointed people to carry out those policies."
"Here is the deal. White evangelicals voted for Donald Trump. Now they have him and are responsible for him," Wallis added. "And he is pursuing policies that are overtly racist. So, what are white Christians going to do about that? There has never been such a racial divide in the church in my lifetime than what I see now. Black evangelicals I know don't even want to speak to white evangelicals because they voted for Donald Trump."
Wallis said that black and minority Christians are disheartened to know that even though "racial bigotry" was a major part of Trump's campaign, it didn't prevent many white Christians from supporting the misogynistic billionaire.
"What that means is from a black Christian point of view, who are also conservative on social issues by and large, racial bigotry wasn't a deal breaker for white voters of Donald Trump," Wallis asserted. "It wasn't a disqualifier and that has caused a tremendous division. So, it is whether white Christians care about that or not and what they want to do with the racial division in the Church because of Donald Trump and how white Christians help elect him."
Many evangelicals and Christians were quite hesitant to vote for Trump. However, Trump won the support of many conservative Christians by vowing to protect religious liberties, defund Planned Parenthood and appoint pro-life Supreme Court justices.
Considering that Trump's main opponent in the election was the Planned Parenthood-endorsed Democratic nominee, Hillary Clinton, who supports late-term and partial-birth abortion, there was little chance that conservatives Christians would cast their ballots for her.
With the two most prominent choices being Clinton and Trump, Wallis explained that it would have been acceptable for evangelicals to choose third-party or independent candidates. He points to Russell Moore, the president of the Southern Baptist Convention's Ethics & Religious Liberty Commission and a prominent Trump critic, as a good example.
Moore wrote an op-ed last year explaining why it is acceptable for Christians to vote third party when faced with a choice between "two evils."
"I could not, though, vote for a 'pro-life' candidate who is also for racial injustice or war crimes or any number of other first-level moral issues," Moore wrote. "There are some candidates I agree [with] on issues like economic growth or national security for whom I could not vote for because they deny the personhood of the unborn or restrict religious freedom for all people."
According to Wallis, the Trump presidency does present a real opportunity for the nation and the Church to have a concrete discussion around race that arguably would not exist if Clinton was elected.
"I think civil rights leaders and black pastors aren't looking to Washington like they normally have for help. Now, it's going to be all at the local level. So, what clergy do and say is going to be very important," Wallis said. "A whole new conversation in the churches, between the churches and across racial lines about what reconciliation means for us could help the country move to a different and better place."
"I think we have made lots of progress over the years but now we are experiencing a white backlash, a white fear, a white blaming and white anger at how the culture and country is changing," Wallis continued, saying that the country will no longer be a "white nation" by 2040. "White Christians should be in the lead in saying that diversity is a blessing and is God's intention. We shouldn't be living in a culture where skin color is the foundation for privilege or punishment. It is and that is biblically wrong and we should be the ones that change that."