Why Are So Many Christians Leaving the Girl Scouts?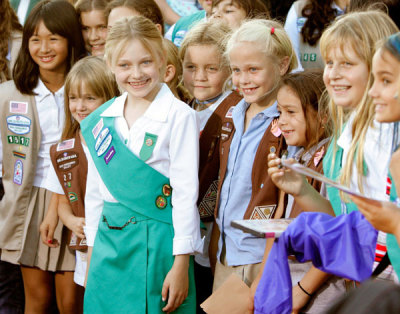 The steady decline in youth and adult participation in Girl Scouts is at least in part attributed to sex education decisions made by Girl Scout national leaders, according to Christians studying the trend and former Girl Scout local leaders who are Christians.
This week, Girl Scouts of the USA launched a campaign aimed at reversing the decline, featuring a video from First Lady Michelle Obama. Christian leaders and former girl scouts explained possible reasons behind it, including increasing ties with abortion provider Planned Parenthood.
"The Girl Scouts for a long time have been promoting an agenda that is contrary to what they were 10, 15 years ago," Janice Crouse, senior fellow at the Beverly LaHaye Institute, told The Christian Post in a Monday interview. Girl Scout policy on sexual morality, which focuses on self-discovery and protection rather than abstention, proves the main cause, Crouse argued. She also listed the trend of mothers going to work (therefore losing time to volunteer) and controversy about where funds are allocated from the famous Girl Scout cookie sales. Only 15% of profits go to local groups.
The Girl Scouts of the USA did not respond to requests for comment.
Addressing the morality shift, Crouse referred to a Girl Scout-sponsored 2010 publication by International Planned Parenthood Federation entitled "Healthy, Happy and Hot: A young people's guide to rights," which encourages young people with HIV to "take care of your sexual and reproductive health." Crouse attacked materials like this for making "girls ripe to sex from the earliest age." The scholar also pointed to a 2003 5th grader pamphlet called "Nobody's Fool," addressing sex education.
From 2003 on, Crouse said she saw "an underlying theme that promoted a more laissez-faire approach to sexual education," encouraging self-exploration. "This all contributes to the sexualization of our culture," the scholar agued, pointing to increasing rates of pedophilia and child abuse.
"The Girl Scouts formerly embraced the Judeo-Christian values that Americans once grew up with – love of God, love of country, treating others fairly," Crouse explained. "Now, Girl Scouts are more focused on indoctrinating girls on the so-called women's rights agenda."
This shift has strained the organization's relationships with churches, the scholar claimed. Publications demonstrated that "the Girl Scouts were intentionally promoting anti-life and abortion in ways that weren't even subtle."
Such stances have led to the creation of alternative scouting groups for girls.
"I just thought American Heritage Girls would be a club for my third daughter – God had a bigger plan, apparently," Patti Garibay, national executive director of American Heritage Girls, told The Christian Post in an interview on Monday. This Christian alternative, started in 1995, now boasts "over 30,000 members in 700 troops, in 48 states and 6 countries," according to Garibay.
Garibay served as a Girl Scout leader for 13 years, following a tradition from her mother. But in 1993, the organization made the word "God" optional in its promise, and the former adult leader recalled a "sex camp" in her local council, which promoted sexual expressions not in line with Christian values.
American Heritage Girls is "an outreach for the church to use," Garibay said, adding that local chapters must charter with churches and private schools. Girl Scout troops, by contrast, are owned by a national organization, and no not have a church or charter partner.
Ann Saladin, former Girl Scout parent and creator of www.mygirlscoutcouncil.com, said she was alerted to the different philosophy when her daughter mentioned Dolores Huerta, a woman she'd never even heard of. "Huerta is very involved in the fight for reproductive rights, Planned Parenthood's woman of the year, she won the Margaret Sanger award," Saladin said.
After learning about the Girl Scouts' unofficial pro-choice stances, Saladin removed her daughter – a fourth generation member – from the program. When her daughter left at the end of 3rd grade, she was the only girl in her class who was not a Girl Scout. Now, in 7th grade, "there are no girls in her grade or leaders in her grade," Saladin explained.
Saladin's passion drove her to start a website, www.mygirlscoutcouncil.com, which documents the pro-life concerns present at every council across the United States.
"The Girl Scouts are connected to the whole liberal infrastructure," argued Dan Gainor, vice president for business and culture at the Media Research Center in Reston, VA. He told CP that the "Girl Scouts have become a left-wing activist organization, with cookies," coopting a family-friendly concept and destroying it "by making it PC."
The Girl Scouts have fallen from 2.9 million youth members in 2003 to 2.2 million today, while adult membership dropped from 986,000 to 890,000, according to Fox News.