5 reasons Coco Gauff's US Open win is a triumph for faith and family values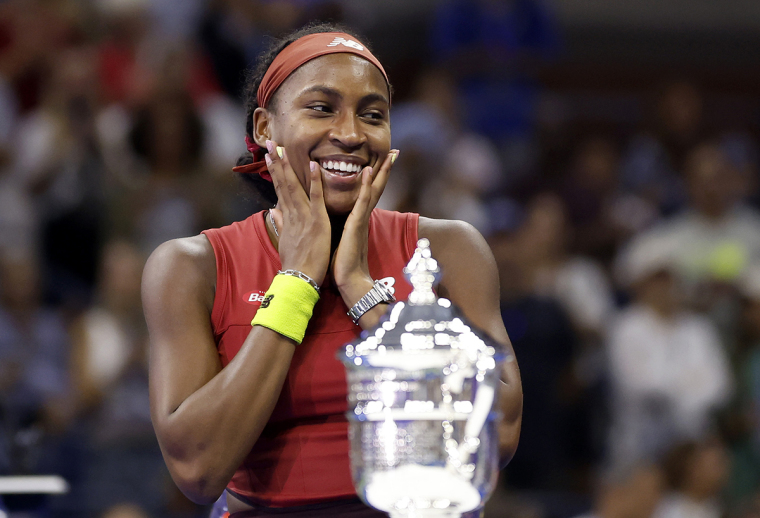 When 19-year-old tennis sensation Coco Gauff delivered a comeback win over new world No. 1 women's tennis player, Aryna Sabalenka of Belarus, 2-6, 6-3, 6-2, in the 2023 U.S. Open women's final on Sept. 9, she also delivered a big win for Christian faith and family values on the national stage.
Gauff, who is a member of the historic Saint John Missionary Baptist Church in Boynton Beach, Florida, generated multiple headlines when she briefly dropped to her knees courtside after the match and publicly said a prayer.
"I was just saying thank you, and I understood all the tough times were just to make that moment even sweeter," the teenage champion would later tell Hoda Kotb and Savannah Guthrie on TODAY. "I think if it came easy, I wouldn't feel as appreciative as I did in that moment, clearly."
Gauff's wholesome image and dedication to her faith has made her a media darling, fan favorite, and advertiser's dream.
This dream, however, would not have been possible without her dedicated parents, Candi, and Corey Gauff, who taught her well and provided her with a supportive home, which many researchers agree, help children thrive.
"Marriage provides relationship clarity and encourages good things like sacrifice and forgiveness, which are so important when children are involved," explains  Marriage Foundation founder, Harry Benson in his recently published "Sources of family breakdown in the UK."
"This is why couples who have tied the knot tend to be more stable and more likely to weather the challenges that life throws at them. This is why marriage accounts for lower levels of family breakdown than other less stable forms of relationship. No wonder a huge majority of couples who are still together by the time their children become teenagers are married."
And even though a 2020 report from the National Center for Health Statistics showed that marriage rates in the U.S. reached their lowest point in more than 100 years due to changing norms and economic insecurity, the positive relationship between marriage and the well-being of families continue to hold.
Here are 5 reasons why Coco Gauff's U.S. Open win is a triumph for faith and family values.