Why Tim Tebow Didn't Counter White Nationalist Richard Spencer's Speech at Alma Mater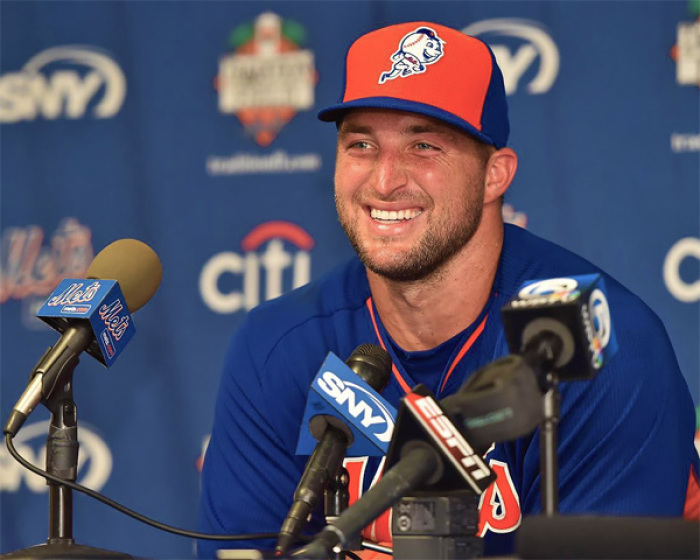 Tim Tebow was invited to offer a counter message, namely of unity, in response to an event led by white nationalist Richard Spencer at the University of Florida. But his employer, ESPN, declined the offer.
Spencer, one of the leading voices in the white nationalist and neo-Nazi movement, was scheduled to speak at the University of Florida last month. To counter the speech, the college reached out to Tebow, among others, to feature him in a video about unity. The Gainesville, Florida, school is Tebow's alma mater, where he won multiple college football championships and a Heisman trophy.
Last week, The Huffington Post reported that ESPN, the network where Tebow works as a college football analyst on "SEC Nation," declined the offer on his behalf.
"The university reached out to us to gauge Tim's involvement in recording a video with regards to the Richard Spencer event at UF and we declined on his behalf," a spokesperson for ESPN told The Huffington Post.
Nancy Chrystal-Green, senior director of student engagement at the University of Florida, initially emailed the school's athletic department to explain the reason for wanting Tebow to speak about unity for his alma mater.
"One of the things we are doing is showing a virtual assembly during the speech," Chrystal-Green said in the initial email. "We are getting in contact with famous alums asking to record a brief message of unity, togetherness, Gator Nation, etc. Obviously a message from Tim Tebow would be a great addition."
Spencer's event was met with loud protesters who shouted, "Nazis are not welcome here!"
Last year, Tebow released his own message of unity in a video on his Instagram page. In his message, Tebow spoke about his love for the United States.
"I love our country and I would do anything for America. One thing that I love most is that it's one nation under God," he said in an Instagram video. "Do you know what that means? It means that you matter, God has a plan for your life and that every single person is significant."
The 30-year-old Gators champion went on to speak about the need for national unity.
"We all matter. So let's come together on that, let's unite on that, forget about our quarrels and differences and let's come together [as] one nation under God," he said. "That should matter that He loves you. He has a plan for your life. God bless you and God bless America."