Will 'Big Mountain Jesus' Have to Come Down From the Mountaintop?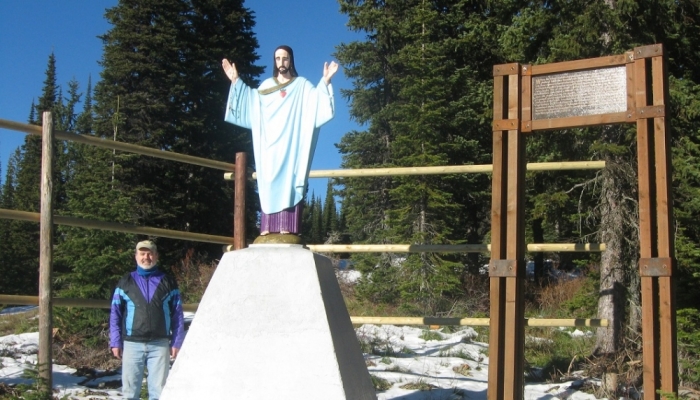 A three-judge panel from the Ninth Circuit Court of Appeals has heard oral arguments in an atheist group's lawsuit against a statue of Jesus Christ located on a Montana ski-slope.
At the center of the lawsuit was a statue known as "Big Mountain Jesus," which was put on the slope in Whitefish by a chapter of the Knights of Columbus.
The Knights are being represented by the Washington, DC-based legal group the Becket Fund for Religious Liberty.
Eric Baxter, senior counsel with the Becket Fund, told The Christian Post that he believed the arguments before the panel "went well."
"The court seemed very prepared for the arguments. They asked the Freedom From Religion Foundation a lot of hard questions," said Baxter.
"They seem to understand the issues in the case and I am optimistic that we will get a good outcome."
In 1953, a Knights of Columbus chapter built a monument at Big Mountain to commemorate the sacrifices of World War II American soldiers. The site was dedicated in 1954 and included a statue of Jesus with arms outstretched.
The monument, which also included a plaque dedicated to the WWII soldiers, was built and maintained by private efforts. Every 10 years the permit for the monument was renewed with the Flathead National Forest.
In 2010, The Madison, Wisconsin-based Freedom From Religion Foundation would demand that the Forest Service not renew the permit. While initially agreeing, public outcry led the service to reconsider.
In February 2012, FFRF sued to have Big Mountain Jesus removed from the government-owned property.
"FFRF's legal complaint notes that the shrine's presence on federal property amounts to governmental endorsement of Christianity in general and Roman Catholicism in particular," reads an FFRF press release.
In June 2013, Chief Judge Dana L. Christensen of the U.S. District Court for the District of Montana, Missoula Division, ruled against the FFRF, dismissing their lawsuit.
In a statement about the dismissal, FFRF co-presidents Annie Laurie Gaylor and Dan Barker said Christensen's decision was based on "torturous logic."
"FFRF didn't exist 60 years ago, but our Establishment Clause was alive and well," stated Gaylor and Barker.
"When we look at that Jesus statue, we see the continuing efforts of this aggressive, missionizing, male-only Catholic club to deny U.S. women the right to abortion and contraception in the name of Jesus."
Last spring, the Ninth Circuit agreed to hear an appeal filed by the FFRF regarding "Big Mountain Jesus," with arguments held on Tuesday.
Regarding the possible decision in the "Big Mountain Jesus" case, Baxter of the Becket Fund told CP that over the past several years the Ninth Circuit has typically ruled against efforts to censor religious displays on public property.
"They actually have a pretty good track record on these cases," said Baxter. "The court has upheld almost all of the religious monuments."