Willie Myrick, 10-Year-Old Boy, Freed by Kidnapper After Singing Gospel Song for 3 Hours Straight (VIDEO)
Willie Myrick, 10-Year-Old Boy, Freed by Kidnapper After Singing Gospel Song for 3 Hours Straight (VIDEO)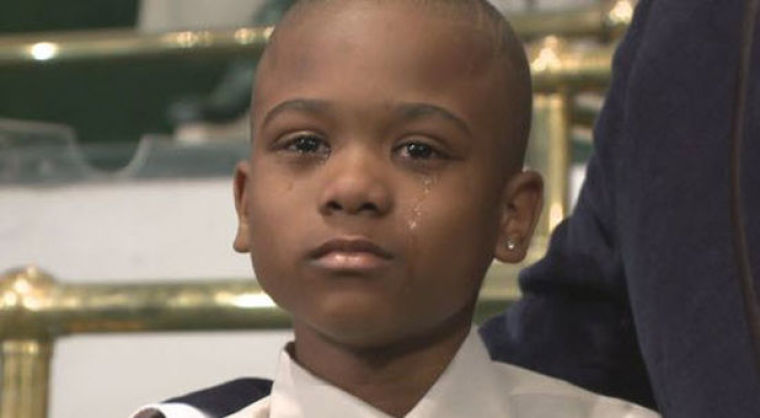 Willie Myrick, 10, is celebrating being let go by a kidnapper, who apparently became frustrated because the child wouldn't stop singing a popular gospel song. Myrick was let go unharmed after singing Hezekiah Walker's "Every Praise" for three straight hours late last month.
Willie Myrick was in his driveway in Atlanta, Ga. March 31 playing with his pet Chihuahua when a stranger drove up and lured him to his car with the offer of money. When the 10-year-old got close enough, the kidnapper grabbed him, pulled him inside and drove off, police said.
"He was cursing at me telling me to shut up and didn't want to hear a word from me," Myrick told WSB-TV. "He said if I told anyone, he would hurt me, like in a bad way."
However, Willie, an avid lover of gospel music, began to sing "Every Praise," a popular gospel song by Grammy Award-winning artist Hezekiah Walker. Myrick sang continuously for three straight hours despite threatening warnings from the man, and eventually, he seemed to have had enough and let him out of the car at East Point.
"He opened the door and threw me out," the 10-year-old said. "He told me not to tell anyone."
When the testimony of Myrick's survival got out, his church decided to celebrate his return on his 10th birthday. Walker, who heard about the incident, flew from New York to Atlanta to celebrate with the child in the church's crowded sanctuary.
"It's just emotional to me because you never know who you're going to touch," Walker told ABC News. "I just wanted to hug him and tell him I love him. I really believe God spoke through me to save that young man's life."
Though Myrick has given a description of the kidnapper to police, he is still at large. Authorities are encouraging anyone with information about the suspect to come forward.
To see the music video for "Every Praise," click below.