With Blessing From TD Jakes, Chris Hill Says He's Ready for Ministry 3 Months After Affair Scandal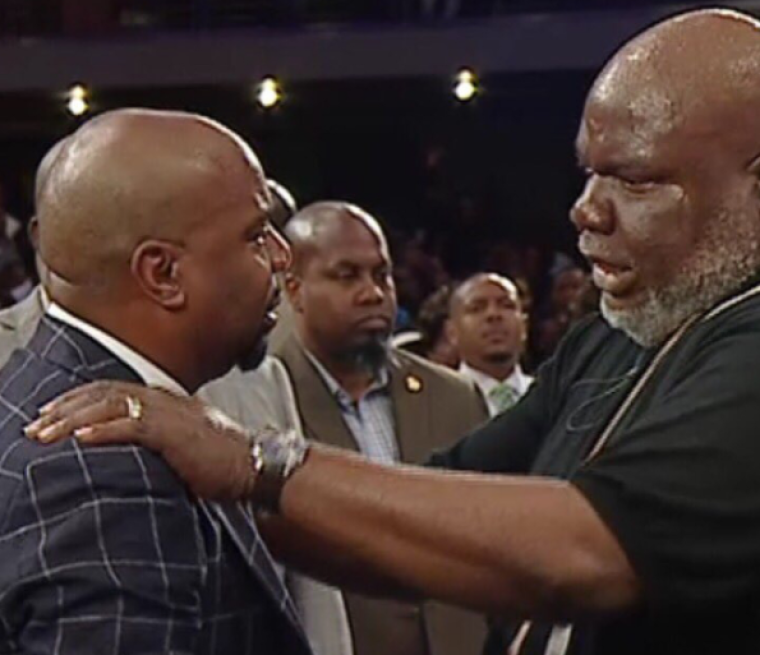 Three months after resigning as senior pastor of The Potter's House Church of Denver over an alleged affair with a married parishioner, Pastor Chris Hill says he is ready to come back following counseling and a public show of repentance Sunday. His mentor, Bishop T. D. Jakes of Potter's House of Dallas, laid hands on him and declared restoration.
"God said that if we confess our sins, that He is faithful and just to cleanse us from ... all unrighteousness. I just believe that this is what the grace of God is for," Jakes said as he laid his hand on Hill's shaved head in a video clip from T.D. Jakes Ministries Sunday.
Earlier this year, Pastor Hill's wife of more than 20 years, Joy, alleged in a mass text message to church members that she was able to verify that her husband carried on an affair with their young goddaughter, Shirnae McFarlane, who married Arthur McFarlane III on September 26, 2014.
"FYI Pastor called the police on me tonight because I yelled at him asking him to leave the house tonight and he wouldn't. I was upset because he won't stop having an affair with Shirnae, and I can't live like this anymore. They've been having an affair for SEVERAL months, and he finally admitted it yesterday (after I hired a private investigator to have them followed over the past 6 weeks)," Joy Hill reportedly said in the text message first cited by the Obnoxious Television blog.
During the ordeal Shirnae McFarlane's alleged cuckolded husband, Arthur McFarlane III, updated his relationship status on Facebook to "Separated." He currently no longer shows a relationship status on Facebook but Shirnae McFarlane still reports her status as "married."
In announcing Hill's resignation in April, The Potter's House Church of Denver also said he and his wife would be seeking a formal separation. It is unclear if the couple has been reconciled but in his prayer for Hill, Jakes indicated that they are still married.
"If there is anybody in here that has ever had God forgive you of something you need to back me up on this," Jakes told his church Sunday as he continued praying for Hill.
"The struggle is over, the struggle is over," he prayed to God. "We believe You for restoration ... touch his whole family, touch his children, touch his life, touch his wife, God, in the name of Jesus."
"We love you. We still love you. We've always loved you. We forgive you," Jakes then told Hill directly.
"We're praying for you. Wanna see you come around, come up, come back, hold on to God. He still has a plan for your life. He still has a call on your life," he added as Hill wept openly.
Before becoming lead pastor at the Potter's House of Denver, Hill was a former youth and associate pastor of the Jakes-led Potter's House of Dallas. He was an elder at that church for 10 years. Under Hill's leadership, the Dallas church youth group grew by thousands, becoming one of the largest in the country.
In a statement he shared on Instagram this week, he indicated that he feels he is now ready to return to ministry after getting help with his struggles.
"Only my faith in God has sustained me through these challenging days. I've gone through a lot of soul searching, professional counseling as well as spiritual guidance from my covering. After many months of intense work, I feel like I'm ready to consider a few of the doors God is opening for me to begin to minister, help others and provide for my family. I solicit your prayers as I intend to be selective, accountable and gradual so I don't over extend myself! I believe that God isn't finished with me! Thank you to all who have expressed their interest in helping me on what I'm calling 'The Road to Recovery!' #grateful #restoretheroar," he wrote.