Woman Tried to Hire Undercover Cop to Kill Husband; Says Easier Than Divorce
Woman Tried to Hire Undercover Cop to Kill Husband; Says Easier Than Divorce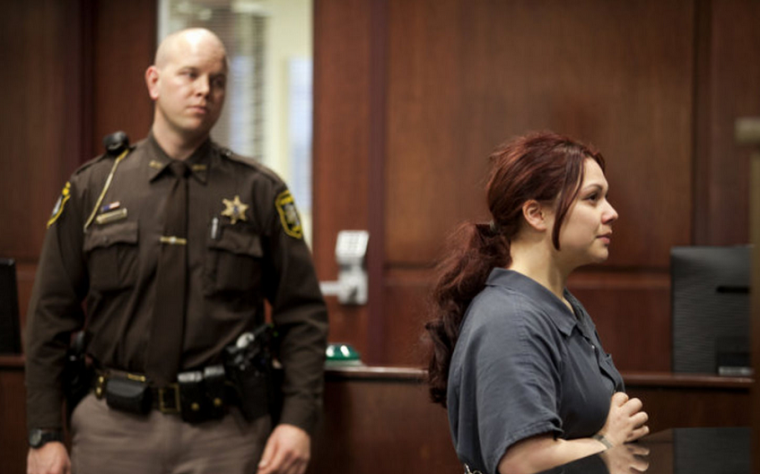 A 21-year-old Michigan woman who wanted a "clean getaway" from her marriage to her 27-year-old husband was captured on video trying to hire a cop posing as a hit man to kill her spouse because "it was easier than divorcing him."
According to a report on mlive.com, Julia Charlene Merfeld of Muskegon, Mich., pleaded guilty two weeks ago to soliciting the murder of her husband who asked Chief Muskegon County Circuit Judge William C. Marietti that she serve no time in jail for trying to kill him.
Merfeld also confessed to police detectives that she wanted her husband murdered so she could collect a $400,000 life insurance policy.
"When I first decided to do this, it's not that we weren't getting along, as terrible as it sounds, it was easier than divorcing him. I didn't have to worry about the judgment of my family, I didn't have to worry about breaking his heart, all that stuff, like this is like a clean getaway," said Merfeld in a video recording of her solicitation of the police officer provided by the Muskegon County Prosecutor's Office.
"I mean it's gonna break my heart when it happens, but it's something that I've been thinking about a whole lot," she added.
Merfeld's co-worker, Carlos Ramos, reported her to police after she offered him $50,000 to murder her husband. The police then set up meetings between Merfeld and one of their officers posing as a hit man.
In the last recorded meeting between the fake hit man and Merfeld, she provided him with a photo of her husband, a plan of their home, a $100 down payment on the murder and a promise to pay him the remainder of the $50,000 in weekly $9,000 installments to avoid suspicion at her bank.
She was also adamant that his death be quick and painless.
When asked if she wanted her husband to die by a knife or a gun, she told the undercover police officer to "do a gun, it's painless."
He then told her he would be shooting her husband right in the face to ensure that he would have no chance of surviving and she smiled uneasily in the video and replied "it makes me sad."
Once they agreed to the deal after a few emotional moments, Merfeld shook hands with him and he told her "good luck" and she replied, "good luck to you too."
In court, Judge Marietti ignored her husband's request that she serve no jail time. He committed, however, to capping Merfeld's minimum sentence at six years in prison when he sentences her on July 30.
Merfeld is eligible for a maximum life sentence in prison. But because she has no previous criminal record the highest minimum sentence Marietti can impose is seven years. Senior Assistant Prosecutor Robert Hedges asked for that as the minimum.
She has been locked up in Muskegon County Jail since her arrest on April 10 after not meeting the demands of a $500,000 cash bond.