Women's Hockey USA vs Canada: Watch Gold Medal Final at Sochi 2014 Winter Olympics Online (NBC TV)
The Women's Hockey Gold Medal Final between USA and Canada takes place at the 2014 Winter Olympics in Sochi on Thursday in a mouthwatering match up. USA vs Canada will start at 12 p.m. ET noon.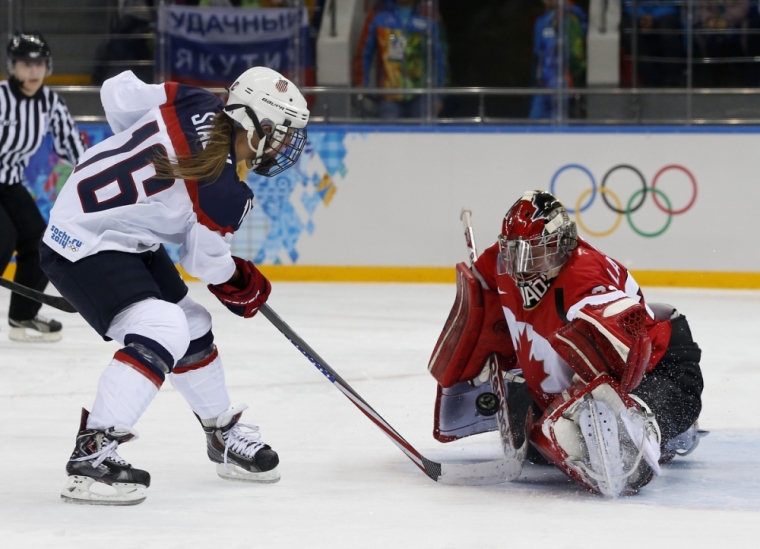 There will be no love lost between these two rivals as they go head to head for the gold medal on Thursday. The two teams met previously in the competition last week, with Canada edging the victory, defeating Team USA 3-2 in a fierce match up.
However, both teams managed to fight their way through to the gold medal final, and the past result will have little significance today as both teams will be going all out for victory.
Overall in the series between these two teams, Canada has the advantage 2-1, but this game will hold the highest stakes and could go either way.
Forward Megan Bozek has said ahead of the game: "We've worked four years for this one moment. We're right where we need to be. There's 60 minutes left for us to achieve our dream."
"We've all taken the last eight months to prepare for this moment," goalie Jessie Vetter added. "It's crazy, it's sports. It all comes down to one game."
Meanwhile, forward Amanda Kessel said, "We wouldn't want to face anyone else in the gold-medal game. They're the defending Olympic champions so you want to play the best."
History in the Olympics sees that Team USA won the inaugural women's hockey gold medal in 1998, defeating Canada. However, Canada have gotten their revenge in a big way until now, winning the next three consecutive gold medals – besting the United States in 2002 and 2010, and defeating Sweden in the final in 2006.
Duggan said, "I'm still working on revenge from Vancouver. You come up short in that one, it doesn't feel good any time you lose a game, so we're obviously looking for revenge."
USA vs Canada in the women's hockey gold medal final at the Sochi 2014 Winter Olympics can be watched online from 12 p.m. ET through live stream by clicking here.