World's Longest Marriage Ends in Death of Husband; Wife Calls It a 'Blessing'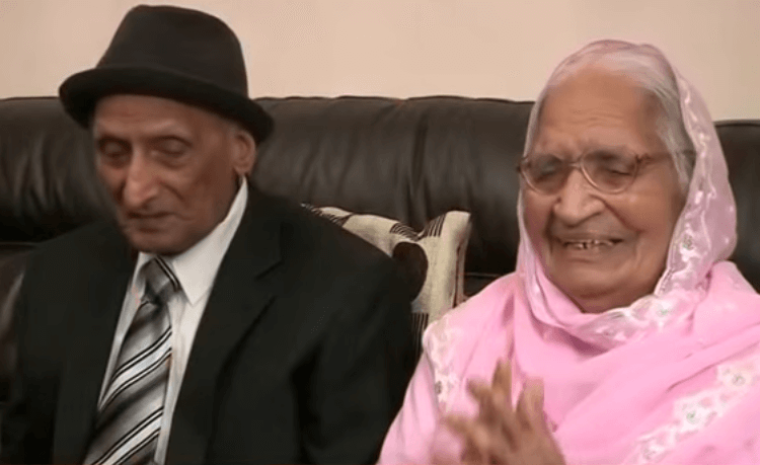 Karam Chand, a U.K. man believed to be one half of the world's longest married couple, died Friday just a month before his 111th birthday after 90 years of marriage to his 103-year-old wife, Kartari Chand.
The couple got married in India in 1925 during the British Raj and moved to England 40 years later according to the BBC. They have eight children and 27 grandchildren. The Indian Express says they also have 23 great grandchildren.
"I'm proud of my dad and all the family is proud. With the grace of God he went peacefully," Chand's son Paul told the BBC. "It's one of those things nobody can stop, everybody has to go."
After living with her husband for such a long time, Paul said his mother was a "bit shocked" and it was "very difficult to cope" but said she would be alright.
Family members told the Express that the couple never argued and were very supportive of each other.
Despite her shock at her husband's passing, Kartari Chand said it was a blessing to have been married to her husband and now that he is gone, she will pray for his peaceful rest.
Harbhajan Das, another of Karam Chand's son, said: "My father often said 'happiness and contentment is what keeps me going through such a long and beautiful life'."
He also said his father would have his breakfast at 6:30 every morning and "had an apple almost daily."
In an earlier interview with the Daily Mail while celebrating the 89th anniversary of his parents' marriage, Paul explained that one of the things his family did to keep them healthy was to give them a "stress-free life."
Karam Chand, who is a retired mill worker, has said in the past however that while he believes in enjoying life he doesn't believe in overindulging.
"Eat and drink what you want but in moderation. I have never held back from enjoying my life," he said according to the Daily Mail.
His wife agreed.
"We have always eaten good wholesome food, there's nothing artificial in our diet but things like butter, milk and fresh yogurt are what we like.
"We know that being married for 86 years is a blessing, but equally we will be ready to go when it's time.
"It's all up to the will of God, but we really have lived a good life," she said.
Harbhajan told the Express that his father's sight never failed him and he would read Punjabi books daily without the help of spectacles.
"He was not educated but used to read Punjabi," he said. "Being the oldest living couple, even the queen of Britain had invited them for dinner."