Tips on How to Teach Children About the Bible and Jesus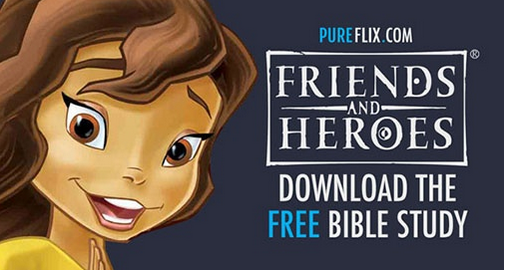 In a digital age, there are countless resources available to help children learn about the Bible and grow in their relationship with Jesus Christ. For those who are unsure of where to begin, Bible study lesson templates and resource guides are good places to start.
PureFlix.com, a streaming video service with thousands of titles available, offers a free guide called, "Friends And Heroes – Bible Study Lesson." While Pure Flix is known for its movies, including its $60 million grossing film God's Not Dead, its online video streaming site offers homeschool curriculum and Bible study guides alongside videos.
In the homeschool Bible study guide "Friends And Heroes," an animated series is paired with the lesson plan.
"Based in the fascinating and turbulent period of history, 69-71AD, 'Friends and Heroes' is an animated Bible series that introduces children to the stories of the Old and New Testaments," a description of the study reads. "This Bible Study offers your child an opportunity to learn more about the characters and message of the Bible with engaging questions and discussion topics. Bring your child's learning experience alive through Bible studies paired with a popular animated Bible series."
Regardless of the method being used to instill Biblical knowledge in children, columnist Bethany Blankley insists it is important to help children fall in love with God in the process of learning about Him.
"To understand the Bible, parents and children must know they are no different than most described on its pages," Blankley previously wrote as a contributor in an op-ed titled "What Parents Should Teach And Children Should Learn From The Bible." "More importantly, they cannot live fully without loving its author and his son."
Pure Flix, the company behind the 60-million-dollar film "God's Not Dead," has an online streaming service at PureFlix.com. The On Demand streaming service provides thousands of family-friendly and faith-based titles and is offering a FREE, one-month trial! Click here to sign up now: www.pureflix.com.