Christian wireless provider responds to Texas police department rejecting donation after backlash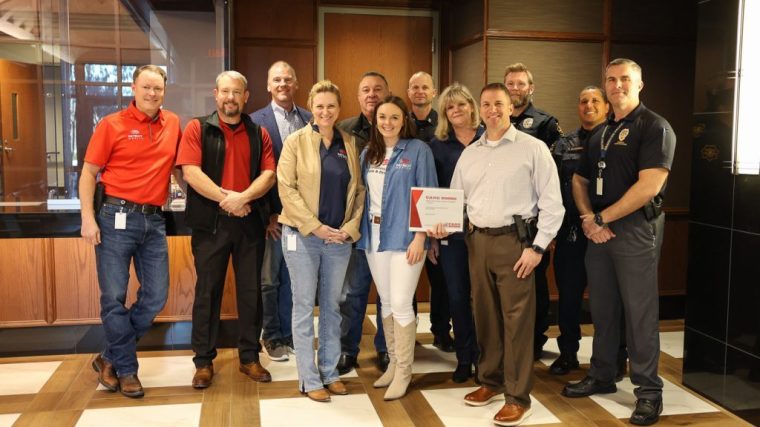 A Texas police department is saying "thanks but no thanks" to a donated pizza party from a Christian conservative wireless provider after receiving backlash on social media.
Patriot Mobile, which stirred up controversy last year for donating "In God We Trust" signs to a Dallas-area school district, says on Jan. 12, the group donated a $1,500 gift certificate for a pizza party to the police department in Grapevine, a suburb in the Dallas-Fort Worth area.
The gift, according to Patriot Mobile, was "a thank you for their service to the Grapevine community," similar to donated meals from other local businesses.
Initially, the Grapevine Police Department offered its thanks for Patriot Mobile's "support and encouragement" and said the department was "grateful" for the donation.
The department tweeted: "Sincere thanks to our friends at Patriot Mobile. We are blessed to have their support and encouragement. Today they presented us with a certificate to host a pizza party for our staff. We are grateful for the opportunity to have a fun and relaxing meal together as a team."
But after a number of comments were posted on social media criticizing GPD for accepting the gift, the department announced it would instead "donate the food to a true need."
"We want something positive to come from this experience and that means giving to a worthy cause," the Jan. 14 statement read.
While not offering any specific explanation, the statement cited "deep emotion" in response to Patriot Mobile's donation and said GPD will "re-evaluate how we receive donations in the future.
"The relationships we have, and desire, with our community members are foundational to growing trust and legitimacy," the statement added. "Please know that our actions were not intended to create distrust, and we vow to do better moving forward."
It's not clear whether someone in the GPD chain of command or a city of Grapevine official made the decision to reject the donation.
The GPD did not respond to a request for comment from The Christian Post as of midday Friday.
In response to the move, Patriot Mobile CEO Glenn Story said the police department "took a knee" and bowed to "extreme left activists."
"The response from the far left is not surprising to us, nor is it anything new," Story said. "We are humbled to serve as a Christian conservative company. Our mission is to defend our God-given constitutional rights."
The $1,500 gift certificate, according to Patriot Mobile, was originally purchased for $2,575 at an auction benefiting fallen soldiers and was donated to "honor our police officers." 
Patriot Mobile is asking for the GPD to give the donation to another police department in North Texas "if Grapevine continues to reject the donation."
The wireless provider also slammed the "woke PR statement" from GPD, adding that is "is not shared by all officers in the Grapevine Police Department."
Founded in 2013, Patriot Mobile's corporate headquarters is located in Grapevine and has supported efforts to elect more conservatives to school board seats in Texas.
The company made headlines last August after donating several signs reading "In God We Trust" to the Carroll Independent School District, located in Southlake about 15 miles west of Dallas.
Patriot Mobile donated the signs in response to a new Texas law requiring all public schools statewide to display the national motto.