Craving the supernatural: Psychics, psychotic episodes, and Jesus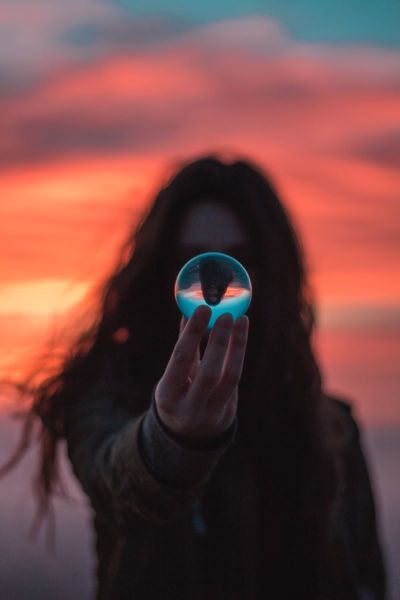 Ever since my 20s, I have been interested in the supernatural. I went to mediums, psychics, had my tarot cards read, and got very interested in channeled writing. I practiced meditation and sought out esoteric knowledge from a variety of sources – A Course in Miracles, Christian Science, Emanuel Swedenborg, and Scientology. Each one had an intriguing mix of Christian or religious thought and spiritual psychology. I was primarily interested in the mental processes of the mind, and how those processes might develop into 'other worldly' processes that would put me in touch with a Divine Mind.
In my early 20s, I had the first of what would become a long history (an additional 20 years) of psychotic and manic breaks, culminating in a diagnosis of schizoaffective disorder. When asked the common question by doctors and psychiatrists, "Do you have any idea what triggers these episodes?", I could always answer in the affirmative and pinpoint the exact moment things started to get out of hand. I would tell them: "I started to think I had tapped into the spirit world," "I was reading this book," and "I was trying out this practice."
To their credit, no doctor or psychiatrist ever tried to deter me from having spiritual or religious beliefs, even obscure ones. Their only caveat was that these beliefs and experiences did not interfere with everyday functioning and did not become overwhelming. This was never the case. I suffered an onslaught of spiritual invasion 24/7 and my thinking was so disordered and my energy so erratic, I could barely meet up with friends let alone hold down a job.
It is a common thing in spiritual circles and in psychotherapy to promote grounding exercises. The idea is that slowing the breath and the body and focusing on feeling connected to the earth may circumvent a manic episode and manage anxiety. I have not personally found this a strong enough practice to help either in or out of a schizoaffective episode. I had also become convinced that medication was not necessary to manage my condition, and that a deeper understanding of myself and an ability to connect to my feelings, usually by further psychotherapy, would enable the problem to disappear.
Four years ago, in the middle of a mental health crisis, I had an incredibly powerful experience with Jesus. This encounter left me with no doubt that the God of the Bible was very real, and in me was borne the desire to get to know Him more. I would like to say that since that time I have not suffered through any more psychotic or manic crises but that is not the case. I began to pray and read the Bible, but I continued to study the other texts and ignored their contradictions with traditional Christianity. Spirit contact, visions, and divine revelations were still my driving focus. I also did not believe in the existence of demons and the devil, nor did I think there was such a thing as demonic spirits influencing daily life.
A religious science of mind has been my understanding of myself, the world, and the spiritual realm for so long that it has been incredibly difficult to extricate myself from it. Prior to my encounter with Jesus, I understood all miracles in the Bible to conform to a science that, though we did not yet understand it, could be accessed, and practiced by us if we would only learn it. If I raised my consciousness high enough, I, too, could part the Red Sea, or walk on water. A slow re-education in prayer, Bible study, and fellowship with other Christians has given me the realization that I have been, for the past two decades, merely trapped within a very human understanding, and a very human mind.
God's eternal Word started gently placing my consciousness back inside my mind and my body where it belongs and enabled me to see the Kingdom of God as something separate and outside of me, something I can be part of but is not an extension of my mind. It offers a genuinely supernatural and otherworldly experience that can be accessed by simple prayer and a desire to know the Lord, without any need for highly advanced and esoteric psychological processes. Today, I can recognize the strange mental dissociation of those that have attempted to populate the Spirit with their own ideas. Perhaps the modern founding father of this type of thinking is Carl Jung with his concept of archetypes and the collective unconscious. Many of his followers have exchanged the soul for the psyche, and in the process, claimed it as religion.
One ever-present danger that studying the Bible has clued me into is the fact that, in an episode of psychosis and mania, I am particularly vulnerable to demonic influence. Many psychotherapists, though rightly interested in the content of psychotic episodes to better understand them, hold the secular view that a demonic encounter is a symbolic or archetypal expression of trauma. One to be actively engaged with so it may be emotionally processed. In a similar manner, I believed the constant attack of unwanted spirits could be better managed if I developed stronger boundaries. It did not occur to me that demons would always make short work of any such attempts.
Today, I try to put the desire for supernatural contact with anything other than the Lord behind me. I do continue to seek a psychotherapeutic understanding of myself and my history where appropriate, but I am not tempted to come off my medication to do it. I respect the biochemical, psychological, and religious components of my diagnosis. I have not had any further encounters with spirits or otherworldly beings, but I have begun to sense the presence of Jesus and recognize His guiding hand in my everyday affairs. I am sometimes blessed with knowledge and insight into people and situations through the grace of God's deliverance, but it is very different from my previous grandiose delusions. I rest comfortably in the theology of the Bible and find it contains all the grounding and practical spirituality that I need, to both satisfy the cravings of my soul and maintain good mental health.
If you have been struggling with adherence to strange and destructive doctrines, and feel you may be under spiritual attack, ask God to show you a new way of thinking. By reading His Word we may, as Romans 12:2 informs us, experience the renewing of our minds, and be transformed into completely different people. Only then will we truly see the mental darkness that has a hold of this world and be ever grateful for our release from it. 
Julie Stacey worked on service development programs in the National Health Service (in the UK) for over a decade and has also spent time inside the psychiatric system. Despite consistent mental health problems, she remained a strong adherent to the religious science of mind; before a powerful experience with Jesus began the journey to sanity. She has a passion for sharing how traditional Christianity and the sustaining truth of the Bible can assist people struggling with mental ill health.