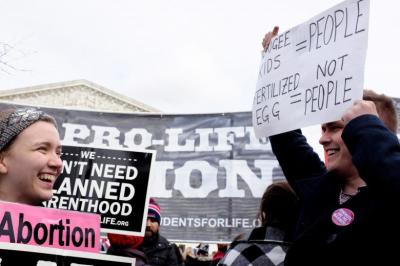 Amelia Bonow and Poppy Liu kicked off their "Bible Belt Abortion Storytelling Tour" in New Orleans last month, pitching the idea that "abortion is normal since one in four women will have one in her lifetime." Variations of that statistical projection from abortion rights advocates at Guttmacher Institute have been examined for accuracy and found wanting. But statistics aside, the Shout Your Abortion and Collective Sex founders seek to normalize abortion through their stories and events.
The messaging includes Shout Your Abortion (SYA) T-shirts sporting statements such as:
Abortion is freedom
Everyone knows I had an abortion
Abortion is pro-life
Abortion is normal
Do these assertions hold water? Or do these statements made about abortion beg the question by assuming that abortion does not involve taking an innocent human life?
All of the above statements fail by this measure.
Declaring abortion to be "normal" or "freeing" or "life-giving" all rest on the assumption that the unborn are not human beings. When pressed to answer for this breakdown in their logic, abortion rights advocates will often assert that "a fetus is merely a potential life" or "women have the right to bodily autonomy" or "abortion is reproductive health care." These ideas seek to make abortion morally neutral or even a beneficial act for women. But none of these assertions addresses the presence and destruction of another human being during each and every abortion.
When I studied applied bioethics with Scott Klusendorf of Life Training Institute, he helped us deploy a communication skill developed by apologist Greg Koukl called "Trot out a Toddler." This involves applying the abortion rights advocate's assertion to toddlers rather than an unborn fetus.
Trot out a Toddler rests on the correct assumption that there is no morally significant difference between the fetus in the womb and the toddler they will later grow to be which could justify killing the fetus but not the toddler. This is so because as humans we are organisms which develop and retain a unique identity throughout the life cycle—we as humans are not constructed things which change and accrue value as new developments occur. We are created with unchanging intrinsic worth by virtue of our shared human nature.
So, let's Trot out a Toddler on the SYA merch? featured on their Shop page.
Instead of "Abortion is normal," picture the T-shirt, "Killing toddlers is normal."
Instead of "Abortion is freedom," picture yourself wearing, "Killing toddlers is freedom."
Instead of "Everyone knows I had an abortion," how about, "Everyone knows I killed a toddler."
Or swap "Abortion is pro-life" with "Killing toddlers is pro-life."
This exercise exposes not only the moral bankruptcy of abortion, but also the selfishness at the heart of this messaging from SYA.
These women are saying:
Abortion is normal since my needs matter more than others'.
Abortion is freedom from my responsibility to the new life I had a part in creating.
Abortion is pro-life since my life matters more than the life of a defenseless child.
Everyone knows I had an abortion and if that makes me ruthless, so be it.
Bonow admits that prior to shouting her abortion she remained silent, claiming, "The anti-choice movement is relying on silence from pro-choice women who have had abortions ... That's just another level of suppression that happens."
I used to engage in mental gymnastics along these lines to justify my abortion, too. However, I was always capable of realizing my silencing reflected an awareness of the immorality of my choice; and I had the maturity to own my emotions rather than suppressing my conscience by projecting my shame out onto others.
Shame. It's a good thing.
My shame taught me that my participation in abortion was not only wrong, because it was the intentional killing of an innocent human being, but that it was a harmful affront to my own dignity as a woman and the dignity of everyone else involved. Abortion makes us bullies of the worst kind—the children it fatally harms have no means of self-protection whatsoever, and they remain officially unprotected by the powers that be as well.
Abortion allows women to do things to the utterly helpless humans among us that we'd never accept if we knew it was happening to toddlers.
Bullying makes you free—to get your own way no matter what.
Bullying is normal—even adults in power can't stop it.
Bullying is pro-life—my life!
Everyone knows that I am a bully.
Normalizing abortion seeks to shed the shame of destroying innocent human beings. But it's a lie that behaving in a shameless way makes you free of shame. It just doesn't work that way.
Healthy shame stems from a healthy conscience, can motivate change, and helps us become shame-free, the opposite of being shameless. And we can all become shame-free.
Becoming shame-free means bearing our shame with the humility and grace that leads us to repent abortion and seek our reconciliation with God, ourselves and others. Contrary to Bonow's assertion, the pro-life movement, rather than silencing women, is working daily to free women from abortion shame through fostering abortion recovery and helping women speak out about the detrimental dynamics central to the abortion choice.
Silence can increase our shame, while sharing our stories begins the healing path. But Bonow's speaking tour will only serve to keep women from knowing that abortion is far from normal behavior for a woman toward her offspring, and that abortion is violent aggression which will leave her conscience anything but free.
Kim Ketola is the host and executive producer of
Cradle My Heart Today
, a companion to her award-winning book
Cradle My Heart, Finding God's Love After Abortion
. Kim's radio work earned her induction into the Minnesota Broadcasting Hall of Fame in 2013. Cradle My Heart is a safe space for listeners to share stories and connect with others who are finding God's love—especially during unintended pregnancy and after abortion.