'Linsanity' Director Talks About Jeremy Lin Inspiring His Own Faith (Interview Video)
Evan Leong is the director of the documentary "Linsanity," which opened in 10 American cities on October 4. Like his subject, Houston Rockets player Jeremy Lin, Leong also grew up playing basketball and is Asian-American, and started chronicling Lin's story back when he was playing at Harvard.
He shares his thoughts with The Christian Post below about Linsanity, how it impacted his faith, and what his future projects will be.
CP: How did you decide to make this documentary?
Leong: When we started this documentary he was at Harvard - this was long before "Linsanity" even became a word - and you know in my work as a filmmaker and a documentary maker, I always find a subject matter, and someone like Jeremy fits the primers for being a good role model, and what he was doing on the court. Then the more I learned off the court, what he was about, he was a character that you really want to further explore and share the story, so that he can be a role model for the generation of tomorrow.
Ultimately for me, for obvious or unobvious reasons, I grew up playing basketball, we're both Asian-Americans, we grew up in the Bay Area, but what he was doing on the basketball court and off the basketball court really intrigued me. You know, when you put someone in a documentary you have the potential to be seen by millions of people - you want to make something about somebody that can help or inspire the next generation.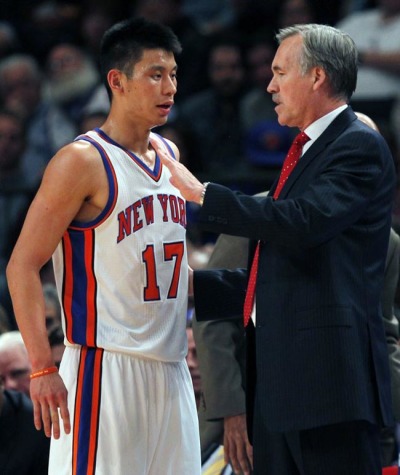 CP: Why did you decide to highlight Jeremy's faith in Linsanity?
Leong: For me, in this documentary we wanted to tell his story, and for his story there is no story without his faith. It's a huge component of who he is and how he lives, and so we had to make sure that that's part of it in this film. We obviously wanted to explore other things of who he is; Asian-American, Ivy League, Bay Area, underdog, but if you didn't include all those, or you took one of those out, then you're not really exploring who he is as a person. His faith is really important to who he is.
And I told him, "This is your chance, your opportunity to use this as a platform to share your faith because I'm trying to tell your story. I'm not ESPN, I'm not "60 Minutes", I'm not trying to tell this racism piece, or an Asians don't play basketball piece, I'm trying to tell your story and this is your opportunity to share it, then let's do it."
CP: As you witnessed the ups and downs in his career, what surprised you the most about Jeremy's faith?
Leong: What I saw, what was most surprising, is he stayed with the faith. What I really admire about Jeremy, what was intriguing and very inspiring is he followed the Bible every day. He still did his devotions everday. He did it by himself and he made sure that this was a part of his daily routine, just like practicing basketball, just like playing video games.
It was all part of his daily routine and that, for me - when people say that they go to church on Sundays and it's not always there the rest of the week - but Jeremy really made sure that this was a priority for every day of his life, and that's how he lived his life.
Another thing for me, you hear it and you see it, what people say on camera but when you actually experience it with them, it wasn't surprising, more just inspiring for me.
CP: How did making this movie affect your own faith?
Leong: We all look for signs and miracles and I got to witness a miracle first-hand. This was truly a miracle that he experienced, that I experienced, I think we all sort of experienced. So many things had to perfectly fit, you know. It was a perfectly fit plan and without these 23 years in the making to fit this perfect plan it wouldn't have happened, and you can't say that's luck...it was a perfect plan.
You know Jeremy himself would say, this was the perfect storm and the perfect plan for all these things to happen all at once. And that's what for me, just really strengthened my faith. There are these things, that do exist, you know, miracles do exist, we just have to look for them.
CP: What went through your mind, both as a filmmaker and a friend, as Linsanity took off in February 2011?
Leong: As a filmmaker, I almost forgot I was a filmmaker for this project. I was so caught up in what was going on and how crazy everything was, I almost forgot that I was doing a documentary on him because everything was so crazy just to experience that.
You know as a friend I was super happy for him. He worked so hard, he worked and it was such a low time for him for so long. He's a very emotional person and he really takes the wins and losses to heart, so for the last two years it was pretty rough for him, especially being cut from his favorite team and it being his hometown team. Then being picked up and cut again and being picked up and coming here, where he knows nothing. You know, it was a really rough time for him. So when he did do well, the first game, I was like, "Yes! That's amazing!" I was so happy for him.
CP: Speaking as an Asian-American, what makes Jeremy's story important?
Leong: Well speaking as an Asian-American, Jeremy represents something that we've never really had in our community. He represents a cross-over in the mass media. We have our own role models, our own heroes, but this is a hero that transcended race, transcended culture, transcended sports and even religion. And I think for us, he represented someone that we could look up to and claim as our own. As a community and in doing so, that made him really special for us. You know, we never had that before. You know, when we do, it's something else, someone like Bruce Lee or something very Asian.
Jeremy was doing a sport and a game that wasn't Asian.
CP: In the movie, Jeremy says he doesn't really like the spotlight. How is he handling the spotlight now?
Leong: I think he's doing it pretty well. For me, I'm really proud of how he's dealt with the responsibility that he's held. I mean, it's not something that you look forward to when you dream of making the NBA. You don't think of all the cameras and responsibilities that you have as an individual, as a person, because everything you do is magnified 10 times...He views it as an opportunity. You know, God's given him an opportunity to share his journey, his faith, his role, on this earth and you know, I think, that, for him, as much as it's difficult and tiresome, he's welcomed it fully.
CP: What's next for you?
Leong: My next project is another documentary on another Asian-American. Her name is Michelle Phan. She's a little Vietnamese-American girl that's basically came - it's a true rags-to-riches story. The girl has become basically one of the most famous YouTube celebrities and she just launched her own makeup brand and she's like the Justin Bieber of makeup. And it's interesting because this project, like Jeremy's project, she's also very, very Christian and it seems to be these are the only projects that get green lit for me. So there's a running theme in my work that basically, it's stuff I'm interested in, but also has a very strong Christian theme.