Michael W. Smith Talks 'Hymns II': Sharing Christian Classics With Next Generation (Interview)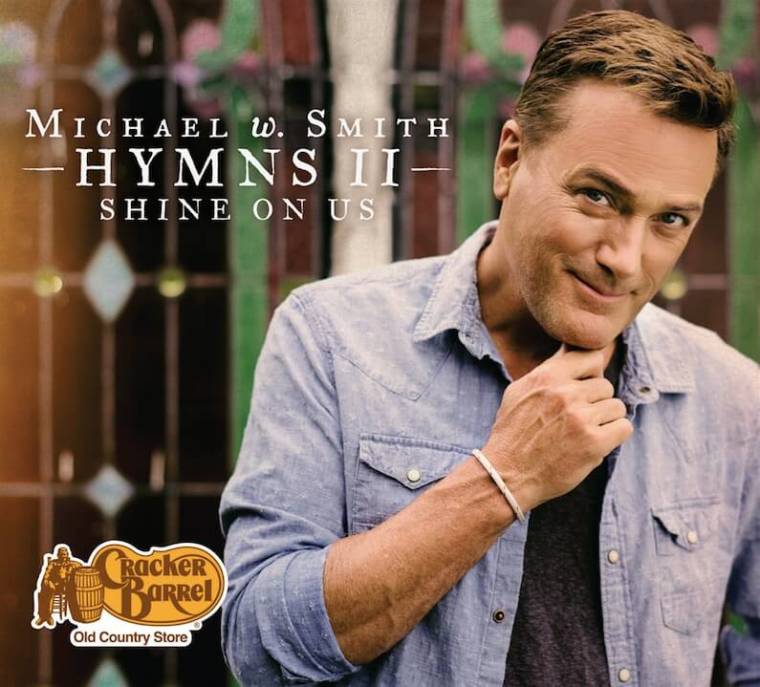 Michael W. Smith doesn't need any more validation from the world.
With over 15 million albums sold, 32 No. 1 songs, three Grammy Awards, an American Music Award and 45 Dove Awards under his belt, the 58-year-old singer-songwriter and musician has had a successful career.
After releasing his latest record, Hymns II: Shine On Us last month, Smith isn't showing any signs of slowing down. "I'm still passionate. I don't think I'm finished," the contemporary Christian musician told The Christian Post. "It would be different if I'm tired and ready to retire, but I just don't think that's going to happen. I feel like my best work is ahead."
Before fans of the multi-platinum selling artist whet their appetites with some brand new material, he felt it was important to recreate traditional hymns with his latest release, Hymns II:Shine On Us. A follow up to his 2014 record Hymns, the latest album features more advanced production, with both classic and modern hymns accompanied by a choir, which was not part of the first album.
Smith wanted to record hymns that saved his life, but also saw a need to introduce older hymns to a younger generation who might not be familiar with the historic worship music.
"These hymns saved my life, so it wasn't a big hurdle for me. I didn't do it for this reason, but I do think you have a whole generation of young people who don't know these songs," he explained. "I think that's a bit sad. So, I think we're educating people. I think it's the right thing to do."
The musician has been wanting to release his Hymns albums for a long time, but it took him some time to iron out the details of how to make that happen.
"I've been wanting to make these hymns records forever. I was just trying to figure out how to do that in the midst of making these pop records or worship records," he told CP, noting his resolution to the question, "How does that line up in your catalog?" To which he responded, "This is important. I would call this a one off."
When he released the first Hymns record, Smith worked exclusively with Cracker Barrel Old Country Store and decided to do the same with Hymns II.
"You can't find this anywhere but Cracker Barrell! It's a specialty project and Cracker Barrel seemed to be the right fit. They're a great company and I love them," the singer said. "When I set out to do the Hymns record, Cracker Barrell seemed to be the right fit. They were excited to partner and do something together."
More than looking for more awards, plaques and certifications, Smith is hoping that somebody finds the hymns he sings to be meaningful in their lives.
"I hope all of these songs mean something very special to hundreds of thousands of people. There is going to be the right song for the right moment that they're in," Smith told CP. "There's a lot of those songs on this records that will hit people. A three and a half minute song can just completely change somebody's life, heal somebody, and give somebody a completely different perspective."
Aside from an illustrious music career that has spanned over 30 years, the father of five and grandfather of 12 has been blessed with a tight knit family. Just as he shares great moments with fans on social media, Smith is also transparent about hard times, which includes the death of his father last year.
More than singing about his Christian faith, Smith leans on that faith during those tough times.
"You're never really ready to say goodbye to your parents. We were really close. I just know where he's at," Smith said. "We're all going there, we're going to get there. I'm going to see him again and it's going to be awesome."
While the entertainer is focused on his legacy as a husband and father, there is no denying how much of an impact he has had in the world of Christian music. Still, he insists there is much more to accomplish.
One of those things is more acting.
"I think the whole acting thing is not over for me. I think there's stuff coming down the pipe and I'm going to jump back on the silver screen again," he revealed. "I was just in '90 minutes of Heaven' a few months ago and 'The Passion Live' ... I think there's going to be more film and television."
Even with all of his acting opportunities, Smith cannot forget about his music.
"I've got some musical things that I've got on my board. I've been writing a symphony for the past two years that I'm almost finished with," he shared. "I'm kind of excited about that."
Despite three decades in the industry, the pressure still exists for Smith to create a great record.
"I've got to make a really great, great, great record. And that's enough in and of itself," he said. "You're supposed to be involved in who are the players, producers, that team of people who can get out there and get a wide audience around the world. I've got to do my part and either write or find the greatest songs that can be written."
Instead of rushing to release new material, Smith is going to take his time in order to make sure it's right.
"The good news is I'm not in any hurry. This is not going to happen in six months, but I am starting to think about it," he said. "I'm not under contract with anybody so I've got to assemble the 'A team' and I've got to make the best record of my life. If I can't do that I'm not going to do one."
To learn more about Michael W. Smith's Hymns II, click here.