Under Fire After Pastor AR Bernard's Exit, Evangelical Advisory Board Explains Work With Trump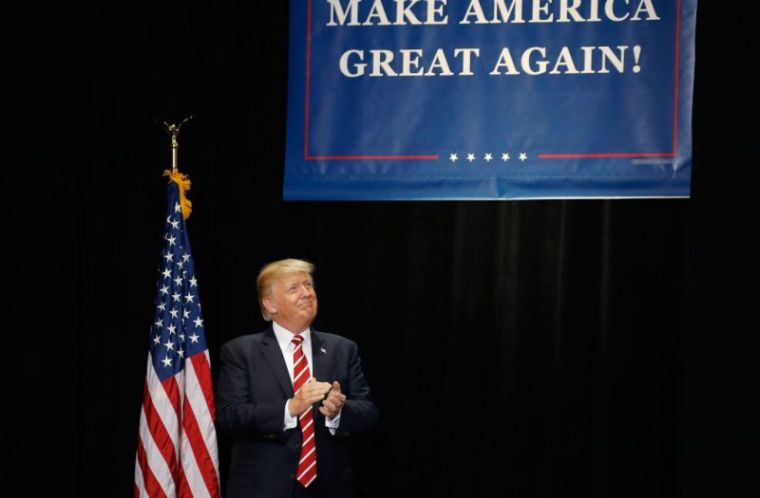 NEW YORK — Under fire from mainstream media critics, President Donald Trump's evangelical advisers explained this week why a majority of the group's members have stuck by the administration even as prominent New York City Pastor A.R. Bernard resigned in protest over the president's controversial comments on the deadly riots in Charlottesville, Virginia.
Dr. Richard Land, who serves as an evangelical adviser to Trump and is president of Southern Evangelical Seminary in North Carolina, said he was dissatisfied with Trump's response to Charlottesville as well, and has received many emails urging him to dissociate himself from the "racist" Trump.
"I was unhappy with the president's statement on Tuesday (last week). I thought they were inartful and begged to be misconstrued and misunderstood in ways that are very hurtful to people," Land, who also serves as The Christian Post's executive editor, commented. "If I had been advising him and he had shown me a copy of that speech ... the thing is there is no copy of that speech. This is the problem. We get more of the president's id than we do any other president. He doesn't stop to reflect on saying [things] in a more careful manner."
Land, in a statement released by the Southern Evangelical Seminary titled, "Christians Have a Responsibility to Denounce Anything That is Anti-Gospel," condemned racism and anti-Semitism as "directly contrary to the Gospel."
"As Christians, we must bear a clear, uncompromising witness to the fact that every human being at every stage of life is of equal value in the eyes of God. We have a responsibility as Christ's ambassadors of reconciliation to speak out against every form of racism and bigotry as unconditionally and straight-forwardly as possible," he said, in part.
Land added in his interview with CP that he will continue to serve on the advisory council to offer feedback and pray for the president.
"I would do the same for [Hillary] Clinton, just like some evangelicals advised the most pro-abortion president in our history," he said, referring to Trump's predecessor, Barack Obama.
"Our job as the advisory council," he explained, "is to give advice and counsel. Whether or not the president and his administration take it is up to them."
Land, at the same time, pushed back against the idea that they are "a rubber stamp," as some have insinuated.
Bernard, who is founder, senior pastor and CEO of the 40,000-member Christian Cultural Center in Brooklyn, suggested last week that the evangelical advisory board wasn't involved in substantive work and likened their presence in the administration to a "photo op."
"During the campaign and right up to the present moment, there were meetings and there were group photos after that, but nothing substantive moving forward," Bernard told CNN.
Land's response: "Brother Bernard must not have been at the meetings I was in or on the phone calls that I was on."
Spokesperson and member of the advisory board, Johnnie Moore, told CP that while some issues have been slower to address with the Trump administration than others, in some cases due to staffing issues in the administration, the advisory board has done a lot to influence policy at the White House.
"We continue to influence policy as well as administration decisions and priorities. Certain members who have a great deal of experience working with previous administrations — like Richard Land and Ralph Reed — have, in fact, noted that the experience, access and progress we've enjoyed with this administration is unprecedented comparable to their experiences with previous administrations," he said in a statement late Tuesday.
Bernard announced his departure from the board last Friday in the wake of clashes between white supremacist groups and counter protesters, including Antifa, in Charlottesville, which left one dead and 19 others injured when James Alex Fields Jr. rammed his car into a crowd.
He cited a "deepening conflict in values" between himself and the administration after Trump said "there is blame on both sides" for the violence and there were decent people on all sides of the protests.
In an interview with CP on Tuesday, Bernard — who said he was an active member of the evangelical advisory board from early 2016 until October that same year — explained that he stopped attending meetings mainly in quiet protest over Trump's "value system," and not over the efforts of the board. He said he is still open to working with the group on substantive initiatives, such as religious freedom and inner cities, and he expressed that to representatives of the board.
"I joined the council in early 2016. I attended several meetings up to September 2016. As recorded by The New York Times in October, I decided to reduce my involvement as I was troubled by the many issues with the president's value system. But I determined to stay available. I told them 'look, I'm still available. I'm still interested,'" Bernard said.
"I came in with an agenda. I told them that. Two things attracted me to get involved: 1) religious freedom 2) inner city initiatives. The president, as part of his campaign speech, he listed those two items along with other items. ... If I could help them some way, bring my experience to it, I wanted to be involved."
As a pastor of a large diverse church in New York City, however, he was forced to make a moral choice to resign, particularly after Trump's Charlottesville comments.
"My moral standards are above any agenda that I have. If pushing an agenda is going to violate my moral standards and I'm going to violate those, then I don't have any moral standards. Moral standards create a boundary in which you work. It creates limitations as to how far you are willing to go in any given circumstance or situation," said Bernard.
"And especially when clergy are involved in politics we must make sure we establish boundaries before going into it. Otherwise, the political climate and political agendas can push us to cross those moral boundaries."
He admitted that even after he stopped attending meetings of the board last October he still received invites to participate but did not officially resign. After Trump's controversial response to Charlottesville, however, he had to make his stand public.
"That's what troubled me back in 2016 and that's what continues to trouble me, and it culminated with the president's vacillation over Charlottesville. Like I said in my statement, it's a conflict of values. It had nothing to do with the board," he explained.
"A board is an official capacity which leaves the assumption that your involvement overlooks any of the other issues that are associated and I just could no longer do that on a moral basis," he said.
When asked if he was saying the other pastors on the board were violating their morals by staying with Trump, he replied: "Every man has to follow his conscience. So I am following my conscience. I can't speak for them. I never tried to speak for them. In fact, in doing interviews, I clearly stated, I'm not attacking the president. I'm not bashing the president and members of the board."
The New York City pastor said he believes the evangelical board members are "wonderful people who love God and love their country."
"This is what they feel they should do. I can't say if that's right or wrong. That's for them. I made a personal moral position," he added.
Land believes Bernard may have come under pressure from his constituents to resign and that he has been questioned about his involvement with the group as well.
"I am sure he has received a lot of pressure to not be on the board from various constituencies to which he is close," he said.
Despite his own personal feelings about the president and his morals, Land said he was asked to serve on the advisory board and accepted the offer.
"The very first phone call that I was on ... before I joined, I said, 'you do understand that Mr. Trump was my last choice in the Republican primaries' and they said 'yes, we understand that but we still would like you to serve and give us advice and counsel and give us your perspective for the president.' I said 'OK,'" Land said.
Describing the group's latest working meeting at the White House which took place in July, Land said he would not characterize their work as a "rubber stamp" of the Trump administration.
"We have raised numerous issues with him and with his advisers, and in that (July) meeting at the White House we were in the Eisenhower Executive Office building, we had just finished discussing the urgent need for the Trump administration to put forward new initiatives to help break the cycle of poverty in the inner cities when Vice President Pence came in and invited us to go over to the oval office and meet with the president. When we came back, the first item we discussed was the urgent need for prison reform," he said.
"My participation in the advisory board has been giving them advice, giving them counsel, raising for them issues that I think need to be addressed. The first thing that happened that particular morning is that I raised the issue of the Chaldean refugees and that the president needed to do whatever is necessary to make sure the Chaldean Christians were not sent back to Iraq where they would face severe persecution or death."
That same day, Land said they also took the opportunity to pray with Trump.
"We prayed that God would give him wisdom and guidance and direction, and that God would keep him safe. Same thing I prayed every day for President Obama. Then we went back to finish our meeting and we didn't finish our meeting until about 4 in the afternoon," he said.
Moore added that the board's "stated areas of focus" include: "religious liberty, humanitarian concerns, strengthening diversity, economic empowerment, and supporting families and mental health."
"They have been our stated areas of focus from the beginning and we've been taking them one by one. We started by focusing on religious liberty because we felt it was the most urgent. We are just getting started on the list now that the government is getting staffed," he explained.
"We've also disagreed with the occasional decision made by the administration and we were able — because of our access — to immediately express our specific concern to the most appropriate decision makers," he said.
Above everything else, Moore noted: "Our most important role is that our group provides personal and spiritual counsel, including prayer, for many specific individuals within the administration. Our ministry of prayer is our greatest joy. This is actually our primary activity, and we view it as our primary responsibility. It takes a lot of our time being a friend and spiritual counselor to many people and that includes low and midlevel personnel."