Alfonso Ribeiro Dead? Carlton From 'Fresh Prince' Laughs Off Death Hoax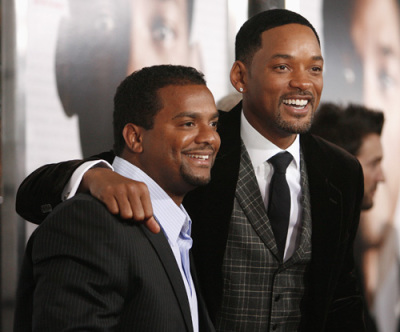 Alfonso Ribeiro has laughed off reports that he had died last week. The actor, famed for playing Carlton Banks in the "Fresh Prince of Bel Air," has ironically asked fans through social media network Twitter what people would be saying at his funeral.
Ribeiro tweeted, "I guess FB has a page saying I died. I wonder what people are gonna say at my funeral???"
However, the rumor was not all fun and games for the comedic actor, as he also revealed that he had been inundated with calls from friends throughout the weekend wanting to check up on him and whether the rumors about him were true.
The actor tweeted, "It's crazy how many people are calling me about this rumor."
However, the fun-loving actor again attempted to look on the bright side of the situation, saying that he was thankful for all the "love" from friends and fans, and saying that it was always best to find the positives in situations.
"Thanks for all the love. In every situation you must find the positive," Ribeiro graciously tweeted.
The death hoax was just the latest in a long string of fake celebrity death reports to emerge over recent weeks and months. "Twilight" actor Robert Pattinson was also killed in a fake death report recently. Eddie Murphy died for about the 5th time, according to fake reports. Reese Witherspoon was rather ironically killed by being stabbed with a spoon in one of the more absurd celebrity death hoaxes.
Also in recent weeks actor Bill Cosby was reported as dead for the fifth time, and the repeated reports about his death have taken their toll. He has previously rebuked the reports and highlighted the insensitivity of those sparking such rumors without thought of the affect it was having on friends and loved ones.
In 2010, posts on Twitter and Facebook declared news of Cosby's death. The comedian called into to "Larry King Live" to talk about his alleged passing.
"I don't want to do this anymore, because this is my fourth time being reported [dead]," he said.
"Emotional friends have called about this misinformation," Cosby posted on his own Twitter account. "To the people behind the foolishness, I'm not sure you see how upsetting this is."
World's Largest Simultaneous Flashmob feat. Alfonso Ribeiro | ViSalus Flash Mob - Hollywood CA