Bill Clinton Likened to a Preacher by Senator, Atheist and Fla. Minister After DNC Speech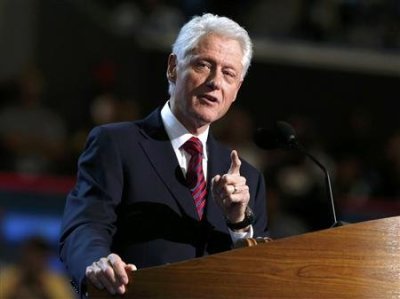 Bill Clinton, the 42nd president of the United States, spoke at the Democratic National Convention Wednesday night in an attempt to sway the public to re-elect President Barack Obama. While Clinton's speech was lauded by many, a large number of listeners likened the Arkansas native's presentation to that of a preacher.
Although Clinton only mentioned God in his closing remarks where he stated, "God bless you – God bless America," many compared his delivery to that of a clergyman.
"Bill Clinton ain't reading off no teleprompter, this guy is jiving up there," one person wrote on Twitter in a message that was re-tweeted over 1,000 times. "Sounds like a black preacher at Sunday Service. Amen Billy #DNC."
Even an atheist took to Twitter to agree with those sentiments.
"If Bill Clinton were a preacher, I wouldn't be an atheist," another person tweeted.
Another person took to Twitter to express their thoughts on the matter, saying that Clinton, who was raised a Southern Baptist, may actually become a preacher one day.
"I'm convinced Bill Clinton at some point is going to become a preacher," the person tweeted. "His speech made me feel like I was in the congregation."
New York Democratic Sen. Chuck Schumer also compared Clinton to a preacher on CNN's "Starting Point" Thursday morning and explained his reasoning to host Soledad O'Brien.
"Soledad, the scene, and you go to some black churches and they go preach, baby, preach, to the minister," Schumer told O'Brien. "This was teach, baby, teach. He was teaching America."
A.J. Wright, a Christian pastor at Shiloh Family Worship Center in West Palm Beach, Fla., also compared Clinton to a Baptist preacher after watching him speak.
"#BillClinton is closing like a strong Baptist preacher," Wright tweeted after Clinton's speech on Wednesday night. "Give me a Hammond B-3 now!!! Did not our hearts burn within, while Bishop Clinton sup with us... G'Nite."
 Bill Clinton speaks at the 2012 DNC (C-SPAN) - Full Speech