Kris Jenner Gets Breast Implants at 56, Viewers Slam 'Vain' Procedure
Kris Jenner has been blasted for attempting to cling on to her youth at the age of 56, with critics slamming her latest plastic surgery procedure as age-inappropriate.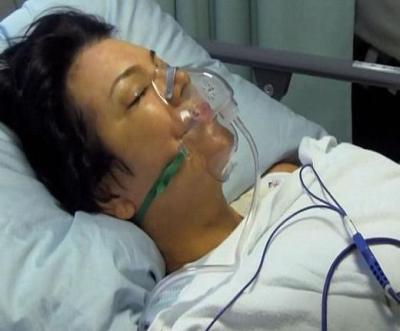 The Kardashian matriarch was seen undergoing breast implant surgery in order to have her old ones removed and new ones put in on Sunday night's episode of "Keeping Up With The Kardashians." Viewers flocked to social networking sites, where they criticized the surgical procedure.
"Why is Kris Jenner get breast implants? She's almost 60. That's redic [sic]," Ashley Tarango tweeted.
"Why Kris Jenner think she's 25yrs old? New Breast implant and skirts shorter than her hair cut?! #KUWTK," Chino Stuart tweeted.
"Who the hell gets breast implants at 56? Freaking Kris Jenner," Iman Rasheed tweeted.
"Kris Jenner is far too old for breast implants, how vain!" Laura Campbell tweeted.
During a visit to her surgeon's office, Jenner flocked through men's magazines while determining her ideal set of breasts.
"The times are changing, and my boobs have to keep up," she said.
Following the procedure, Jenner invited her children over to the family home and bizarrely requested that they all look at the results of her surgery, to which most were reluctant.
"Look at 'em once!" Jenner begged while exposing herself. Khloe and Rob Kardashian looked away in horror.
"When they're out of surgery! They're still under construction," a mortified Khloe shot back while attempting to flee.
Jenner is frequently criticized for her bizarre antics, with some fans accusing the mother of six of constantly staging extreme scenarios on their E! reality TV shows in an attempt to boost ratings.
In August, Jenner was faced with rumors that she played a role in the sale of her daughter's Kim's homemade sex tape. Kim rose to stardom in 2007 following its release, and recent reports suggested that it was Jenner who brokered the sale of the infamous tape.
"Kris was totally involved in arranging the sale of Kim's tape," a source told Star magazine regarding Kardashian's homemade video.
"The video already existed, and Kris was there every step of the way as a middleman brought in to market it to an adult entertainment company," the insider went on.
Other incidents that Jenner has been accused of staging include Kim's 2011 over-the-top wedding to Kris Humphries, although she has denied that it was a stunt to boost ratings.
"The minute you see something in print, something written down or on the cover of a newspaper, you think, 'Oh that's true, this is what happened,'" Jenner previously told E! following Kim's split from Humphries after just 72 days of marriage.
"And it couldn't be further from the truth. So people have to calm down for a minute and realize no one's doing anything crazy, it's just a horrible, horrible situation. I feel bad for the kids," she added.
Kris Jenner Talks About Her Plastic Surgery