Naked eBay Seller: Woman Accidentally Reveals Too Much in Photo, Dress Sells for $250,000 (VIDEO)
A woman has been labeled the "naked eBay seller" after accidentally including herself in a photo she was taking of a dress she was trying to sell on popular auction website eBay.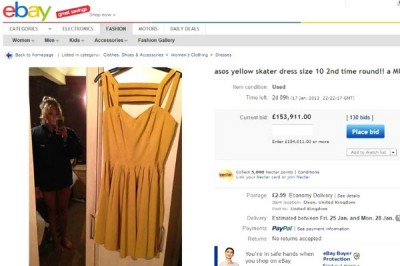 News of the accident has spread across the Internet and it has been found that the woman comes from Oxfordshire in England. The so-called "naked eBay seller" uploaded a dress she wanted to auction with the title, "ASOS yellow Skater Dress 10," asking for an opening bid of £15.99, which is about US $25.
The photo attached with the description of the dress shows the yellow dress hanging on the back of a door.
However, to the side of the dress is a mirror, which shows the woman taking the photo with her cell phone - seemingly unaware that she has been included in the photo, and not prepared to show herself off publicly.
The woman has since posted the following comments after realizing her mistake: "It's so embarrassing. It is such a dizzy, stupid thing to do and now the whole world's seen me in the nude.
"I put it on eBay last Saturday morning and realized straight away so ended the sale. But what I didn't realize was that people could still it on the site.
"I reported it to eBay and they took it down, but by then it had gone viral. My boyfriend Andy thinks the whole thing is hilarious," the nude eBay seller said about the matter."
Others, however, have claimed the entire incident was just a publicity stunt to bring attention to the auction. Certainly a lot more people viewed the auction than ordinarily would due to the publicity surrounding the photo.
But the effort may have backfired as it appears some fraudulent bids were made, and the dress eventually "sold" for £153, 911 which is about US $245,000.
eBay Seller Accidentally Posts Naked Photo Of Self Along With Dress