New Chinese Smartphone HomTom HT6 with 6,250mAh Battery to Ship in November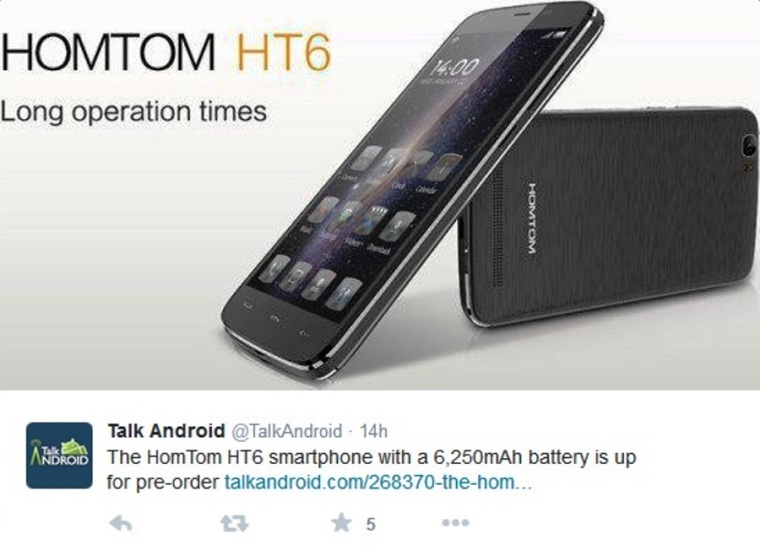 A new Chinese smartphone called the HomTom HT6 is entering the market with a 6,250mAh battery and is expected to be available next month.
Chinese tech manufacturer Doogee is readying things for the launch of its HomTom HT6 smartphone which carries a huge battery. The device is expected to ship by November.
The handset, which is expected to carry enough power to last it through several days of heavy use, is now available for preorder at Tiny Deal at a low price point of $149.
The HomTom HT6 features a 5.5-inch 1280 x 720p resolution HD IPS touchscreen display over a 64-bit 1 GHz quad-core MediaTek MTK6735P processor, which is supported by 2GB of RAM and 16GB of internal storage.
The handset offers microSD support and features a 13MP Sony rear camera and a 5MP front shooter. It is expected to be powered by Android 5.1.1 when it ships. However, no information was released over what skin the HomTom HT6 will be running on top of the Android OS and speculations have pegged it as an Android Lollipop version with a Doogee-customized interface.
Apart from its massive 6,250mAh battery, the device manages to maintain a slim 9.9mm, and is equipped with PumpExpress Plus, a MediaTek fast charging system, which is reported to be able to bring battery capacity up by 75 percent after only 30 minutes of plug-in time, even for the HomTom HT6's 6,250mAh battery.
The upcoming smartphone's main draw is its battery, which exceeds even that of the soon-to-be-launched OnePlus 2, with its thick 3,300mAh pack.
The HomTom HT6's chassis will be crafted out of an unknown alloy, although rumors point out the budget handset's rear panel is likely to be made out of plastic.
While the HomTom HT6 is expected to become available at e-retailers and physical shelves on November 15, in the United States, it is only geared to work with telecom carrier Sprint.