Nuns Supporting Obama? Social Responsibility is 'Part of Pro-Life Stance,' They Say
Nuns wearing the expected black and white habits and sitting backstage of the Republican National Convention are not the only ones who have taken a political stance. A second group, supported by Sister Simone Campbell during the Democratic National Convention, have taken their own stand and are speaking out for social responsibility.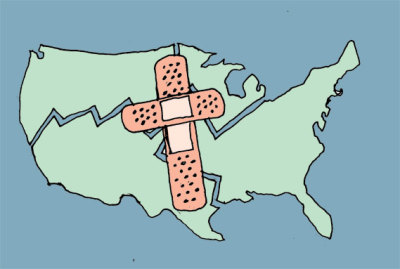 The Catholic Church has found itself in the midst of a boxing match as it struggles to gain political advantage. And this time, the group leading the fight is not composed of bishops and priests, but women who are ready to speak their mind.
In one corner you have the black and white team, a group of nuns who wear the traditional habits and strongly support family values and laws against abortion. But in the second corner are the underdogs- a group less familiar, though it has come to build a presence in the Catholic Church. That group was represented by Sister Simone Campbell last Wednesday as she spoke during the Democratic National Convention.
"Let me explain why I'm here tonight," Sister Campbell began.
Her explanation is firmly grounded in the support for social justice, a cause that for some sisters within the Catholic church makes President Obama a more appropriate presidential candidate. Simone argued that Mitt Romney is correct in stating that every individual must be responsible for themselves, but according to her it doesn't end there.
"Our faith strongly affirms that we are all responsible for one another," Simone said Wednesday. "I am my sister's keeper."
The Catholic vote has become an important swing vote to win for both presidential candidates, and the nuns have become important team players because for many, they are the most familiar face in the crowd.
Campaigns have elected to use nuns for pubic outreach because it speaks out to "a lot of rank-and-file Catholics, who rarely have interactions with their bishops, but have interactions with nuns at schools or hospitals," Robert Jones, CEO and founder of the Washington-based Public Religion Research Institute, told USA Today.
Mike Bernacchi, marketing professor at the University of Detroit Mercy, agreed.
"Nuns are popular. Nuns are the ones who carry the load. They are the pack mules of Catholicism," he explained.
What these popular nuns seem to be standing up for is a call to personal and social responsibility. While a number of members in the Catholic Church, nuns included, oppose the clause in Obamacare which requires employers to provide insurance to cover birth control costs, Simone also defended the plan for the coverage that it provides to the poor and needy.
"We share a responsibility for creating an economy where parents with jobs earn enough to care for their family," Campbell argued. "We all share responsibility to ensure that this vital health care reform law is properly implemented."
Campbell has become a budding figure from the religious sector after defending nuns when the Vatican suggested that they had become too progressive.
"We're certainly oriented toward the needs of women and responding to their needs," she said during a June interview on the Colbert Report. "If that's radical, I guess we are."
Campbell has a law degree from the University of California and has always had a political background. After finishing a speech in which she told the personal stories of many middle class people that she had worked with, she added that expanding Medicaid "is part of my pro-life stance and the right thing to do."