Obama Camp Mocks Romney for God-on-Currency Remark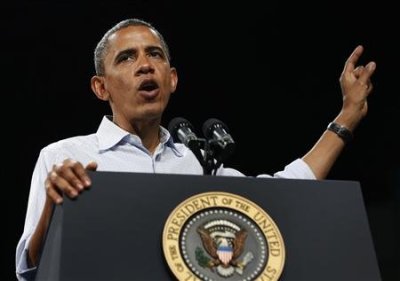 President Barack Obama's camp hit back at Mitt Romney on Sunday over the GOP presidential candidate's assertion that he would ensure that God remains on U.S. currency if he's elected. A presidential aide called Romney's fear only as likely as "aliens attacking Florida."
"Look, this is nothing more than a desperate attack based on a false premise by the Romney team and it's sad that the debate has been driven to this level of discourse," a Sunday pool report quoted Obama campaign spokeswoman Jennifer Psaki as saying. "The president believes as much that God should be taken off a coin as he does that aliens will attack Florida. It's an absurd question to be raised."
White House Press Secretary Jay Carney also charged that Romney's remark on Saturday, which came after the Democrats' initial hitch in having the word "God" in their party's platform last week, was out of desperation. "There's a period when the argument is not going your way ...," he said, "and you begin to see random issues thrown up like spaghetti against the wall to see if anything can stick."
The three-day Democratic National Convention in Charlotte, N.C., which concluded last Thursday, amended the platform on the second day to include the word "God" and to name Jerusalem as the capital of Israel. The Democratic Party's 2008 platform mentioned "God," though just once.
A motion moved by former Ohio Gov. Ted Strickland last Wednesday, to insert the words "God" and "Jerusalem" back into the party's platform after the platform committee passed the original version omitting the words, required a voice vote in the party's convention hall. The amendments needed a two-thirds majority approval to pass. Three roll call votes were taken as the voice votes sounded split. After it was determined that the motions passed, many booed.
On Saturday, when Romney, a Mormon, spoke at a campaign event at a military museum in Virginia Beach, Va., he said, "I will not take God out of the name of our platform. I will not take God off our coins and I will not take God out of my heart. We're a nation that's bestowed by God."
The GOP nominee also pledged not to divide the nation or "apologize for America abroad." He vowed to have a strong military. "For us to have liberty here, for us to be able to protect ourselves from the most evil around the world, for us to share liberty with our friends around the world, we must have a military second to none, so strong no one would ever think of testing it."
Democratic National Convention Chair and Los Angeles Mayor Antonio Villaraigosa has said that Obama oversaw the inclusion of God, and called the Republican reaction "a lot of ado about nothing." He claimed that not even one person objected to the inclusion of "God." "It's more a media concern than a delegate concern," he stated.
President Barack Obama DNC Speech Complete: Romney in 'Cold War Mind-Warp' - DNC 2012