Samsung Galaxy S3 Android 4.1, JellyBean Update Leaks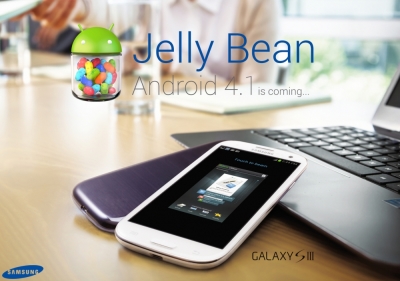 The Android 4.1, JellyBean update for the Samsung Galaxy S3 has reportedly leaked.
This build of the software carries the number I9300XXDLI7 and it should officially begin rolling out any day now. This update is expected to be over the air, so Galaxy S3 owners will not have to access it using Samsung's Kies software.
New photos of the Samsung Galaxy S3 in Garnett Red have also been released by AT&T.
This model is currently available in the U.S. exclusively through AT&T and features the same specifications as the blue and white versions including a 4.8-inch Super AMOLED display, Android 4.0 Ice Cream Sandwich, and 4G LTE connectivity.
In other Galaxy S3 news, the accessory company known as Mophie will be releasing an extended battery pack for the smartphone.
This battery pack will launch in four different colors including Red, White, Blue and Black, matching up to each variant of the Galaxy S3. The accessory is expected to extend battery life by over 100 percent, doubling the phone's capabilities. It will also protect the back and sides of the smartphone from cracks and scratches.
Unfortunately, the new pack will add on some extra bulk, making the Galaxy S3 less comfortable for holding, handling and carrying. There have not been any dimensions released for the pack, but given the size of the actual phone, it should add a lot of mass to it.
The Galaxy S3 will also be released in three new colors, according to announcement made by the Samsung.
The smartphone will also be available in Titanium Grey, Sapphire Black, and Amber Brown in the near future.
The colors are subject to carrier availability, so customers will not be guaranteed to see all of them on their carrier of choice right away. The black model has been rumored for quite some time and now it seems that it will finally arrive.
Samsung Galaxy S3 LEAKED