'We've Had Enough Bushes': Barbara Bush Urges Jeb Bush Not to Run in 2016 (VIDEO)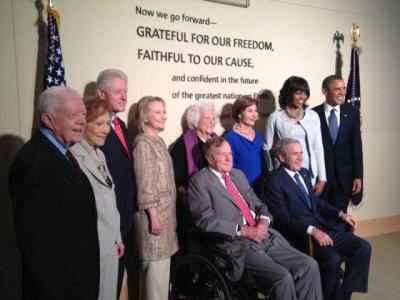 "We've had enough Bushes," says former First Lady, Barbara Bush when asked about a potential run for the White House for Jeb Bush.
Wife of George H.W. Bush, Barbara, was speaking during a Thursday interview with Matt Lauer on the "Today" show, when she explained that she believed her family had occupied the White House long enough, and that there were "many other good families out there."
Former Florida governor Jeb Bush is still reportedly undecided about a potential run for the presidency in 2016, but if he does he will be going against Barbara's advice.
"There are other people out there that are very qualified, and we've had enough Bushes," she told Lauer, as the rest of her family around her laughed, surprised at her comments.
"It's a great country. There are a lot of great families and it's not just four families," she said.
Barbara did qualify her comments, indicating that there wasn't any suggestion of Jeb not being qualified enough, oppositely she added: "He's the most qualified, but I don't think he'll run."
Barbara Bush was being interviewed in the new George W. Bush Presidential Library in Dallas with two other generations of Bush women.
Jenna Bush Hager spoke about her father's legacy and big day, saying: "We're so proud of him."
"We walk into this museum, and you see baby pictures of us with him. That's how we see him, of course, but more than that, we're proud of his service to our country and everything he did," she added.
Babara also gave an update on her husband's condition: "It's just the darn legs won't work, but other than that, he's perfect. He's sweet and loving and it must be frustrating for him."
Here is a video of Barbara Bush speaking about Jeb Bush's potential run for the U.S. presidency in 2016: