Worship Leader Who Says God Led Him to 'The Voice' Advances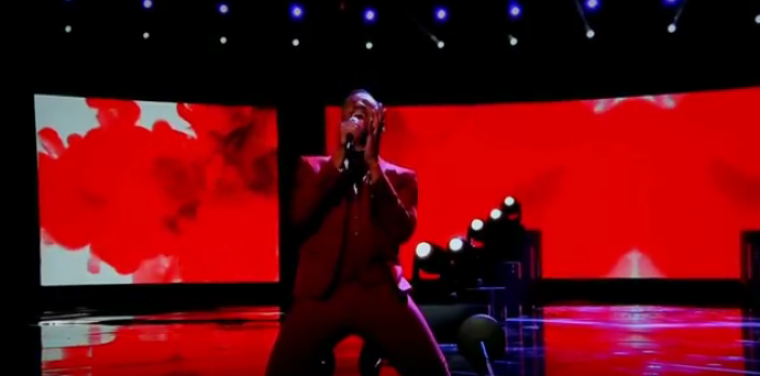 A Knoxville, Tennessee, worship leader who says God led him to the NBC singing competition "The Voice," officially made it as one of the top 10 finalists competing to win.
Chris Blue sang an emotional rendition of the Percy Sledge song, "When A Man Loves A Woman," which he dedicated to his fiancée who has been battling bone marrow cancer. The singer, who is being mentored by singer-songwriter Alicia Keys on the show, admitted that it was hard for him to finish his performance on Monday night because he was overcome with emotion.
"It was a pretty emotional song, and then having my fiancée present in the audience did not help," Blue told reporters after the live show Monday. "I got choked up mid-way through it and then had to fight to finish the song."
Blue's rendition of the song was enough to help him secure votes that placed him among the top 10 finalists of the show Tuesday. The church where he serves as a worship leader for six years, Cokesbury United Methodist Church, hosted a watch party for the singer where the community came together to watch his live performance on Monday night.
"Come join the Blue family and watch the Top 11 Live Performances on The Voice! Food trucks will be available and doors will open at 6:45 pm," the church wrote about the event created on Facebook, urging supporters to vote for Blue. "Bring your smartphone so you can VOTE for Chris!"
Blue feels God led him to the nationally televised singing competition after his fiancee's health deteriorated last year.
"When everything happened with my fiancee and her story, I realized that life was just too short. And after God was kind of pushing me to go forth, and I was declining and saying 'No. This can't be ...' I asked that He would just confirm, and He did," he said in a previous Knoxville News Sentinel report. "When He did, I would say that really did help push me and helped me overcome the fear and just do it."
Blue will be competing once again on Monday at 8 p.m. ET. For more information about Blue, please click here.