Bristol Palin Attacked in Bar, Told 'Your Mother is the Devil' (VIDEO)
Bristol Palin sat down for a recent interview to talk about her upcoming reality television show with 3-year-old son Tripp. One of the first episodes will apparently reveal an intense argument between Bristol and a man at a bar who charged that her mother was "the devil."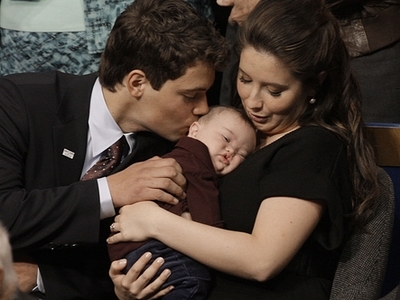 Bristol Palin, daughter to former Alaska Governor Sarah Palin, recently did an interview with "Good Morning America" to promote her upcoming reality show "Bristol Palin: Life's a Tripp." The interview hit on questions about Bristol's portrayal as a mother, and also sparked questions about the 21-year-old's defensiveness over her own mother.
Footage of Bristol defending her mother while at a bar last year will be part of one of the earliest episodes of the reality show according to ABC. Bristol defended her decision to protect her mother.
"I think if somebody is going to talk poorly about my mom, I am going to pick and choose my battles and a battle like that, I chose to confront him and see what the real problem was," Bristol said of the confrontation.
The confrontation began when Bristol finished riding a mechanical bull and a man from the audience yelled out a lewd comment about Sarah Palin. An offended Bristol decided to approach the man.
"Your mother is the devil," the man charges. "If there was a hell, which I don't believe there is one, she will be there. She's evil."
Bristol then responded by asking the man why he felt that way.
"Is it because you're a homosexual?" Bristol asks.
"Pretty much," the man responds. He then adds that Sarah Palin "lies" and can't speak in a complete sentence"
During the interview, Bristol commented on how she felt about viewers watching the incident break down on television.
"I'm excited for viewers to see the real me in that," she said on "Good Morning America," "because I'm sitting there all tough and shaking and I'm acting tough and instantly when it's over, it's like, 'OK, there's the real Bristol,' because I am calling my boyfriend, I'm calling my mom."
Bristol added that her "real" self was just "a grounded, normal mom."
Bristol Palin Verbally Attacked at a Bar