CP Daily
Our most popular newsletter, delivering daily news to your inbox.
Good afternoon! It's Thursday, March 23, and today's headlines include research on churches and financial hardships, four suspects arrested for a shooting at a Mennonite church, and evolutionary biologist Richard Dawkins coming to the defense of Harry Potter author J.K. Rowling. 
Forty-four percent of pastors who know how many weeks of cash reserves their church has said it is less than 16 weeks, which marks a decline from 50% in 2016, according to a study from Lifeway Research. The study, which surveyed 1,000 Protestant pastors in September, found that the share of pastors who said their cash reserves were seven weeks or less declined from 26% in 2016 to 20% in 2022, while the number of pastors who said their churches have cash reserves for 16 to 51 weeks increased from 27% in 2016 to 32% in 2022. Meanwhile, 24% of pastors said their churches have 52 weeks or more of cash reserves, which remains statistically unchanged from 2016 (23%). Lifeway Research Executive Director Scott McConnell stated that whenever "hardships impact an organization, financial leaders carefully watch how much cash is on hand and how quickly they are spending it." In referencing COVID-19 pandemic lockdown measures, the director added, "Very rarely does cash stop coming in completely, though some churches experienced that for a few weeks in 2020." Despite the study's findings, McConnell believes many churches still have "too little money in the bank given the uncertainties of 2023." For demographic insights,
click here
.
P.S. Last Chance
! Don't forget to sign up for today's Unmasking Gender Ideology conference in Dallas, Texas. The conference is set to feature a panel of experienced professionals such as Mary Rice Hasson, J.D., of The Ethics & Public Policy Center, Woman II Woman founder Amie Ichikawa, and Summit Ministries President Dr. Jeff Myers.

TOP STORIES
Aguilas Centro Familiar Cristiano Church
of Las Vegas, a predominately Hispanic congregation, plans to have around 10,000 Easter eggs at its Easter Sunday celebration. While many eggs will also be hidden, several thousand eggs will be dropped from a helicopter at the backlot area of their soccer courts on Easter Sunday. An ACFC representative told CP the church's main focus "is God and people," stating, "As Christians, we believe Easter Sunday is an important opportunity to deliver the message of the Gospel to as many people as possible. This is the main purpose of this event, to provide an opportunity where families can have fun, enjoy and experience the power of Easter."
Learn more.
Robert Shiflet, a former youth pastor at Denton Bible Church in Texas who was sentenced to just 33 months due to a sentencing miscalculation after he was accused of sexually abusing 14 young girls placed under his care, is now free after his sentence was reduced to 25 months for good behavior. Shiflet, who now lives in Weatherford, was released from prison on Jan. 11. However, his victims were not informed of his release for more than six weeks, with a Justice Department letter stating that notifying his victims of his release was not possible because it was "immediate, and/or unexpected." Shiflet pleaded guilty on Nov. 30,  2020, to two charges of transportation of a minor to engage in illegal sexual activity. He was sentenced to 33 months in prison under a plea deal in June 2021 for child sex trafficking charges, which was less than the suggested 41 to 51 months and below the statutory maximum of 10 years on the first count and 15 on the second due to a miscalculation. U.S. District Judge Lee Rudofsky did not mince words at Shiflet's sentencing, expressing serious concerns about the deal the former youth pastor received. "I'm not sure I've ever been as concerned about a recommendation the government has made," the judge asserted. "You are a terrible person," Rudofsky told the former youth pastor. "I don't believe that you are sorry in the slightest. I don't believe you have rehabilitated yourself. I believe you haven't been caught again, but I don't believe you have rehabilitated yourself."
Read more.
Four teenagers, including two minors, have been arrested and charged with shooting at a Mennonite church building in Missouri. Authorities consider the act a hate crime. The four suspects were taken into custody after allegedly shooting dozens of 9mm pistol rounds at Clearview Church of Morgan County on Saturday. Authorities discovered spent 9mm casings "and obvious damage to the church." They say no less than 50 rounds were fired into the church. A motive for the attack is not yet clear. Family Research Council reports that there have been approximately
420 acts of hostility
against U.S. churches over the past five years.
Read more.

CP VOICES
A sudden spark of interest in spiritual gifts has prompted debate—particularly on social media—regarding the biblical authority of Christians to heal the sick and cast out demons, as well as whether Christians can be demon possessed. In this op-ed, Resurrect Ministry's Hedieh Mirahmadi turns to Scripture for answers and encourages believers to "not be overly concerned about where the evil force is located and instead focus on how Jesus helps us achieve victory over it."
Read more.
Dr. Michael Brown, whose extensive resume includes more than 40 years of public discourse, reflects on the importance and biblical relevance of debates. Noting that Paul and Apollos engaged in debates as part of their ministries, Brown explains that these debates enabled other Jews to hear the good news while also strengthening the faith of those who already believed. "In my own experience, this second, positive result is of great importance. It encourages my fellow believers. It gives them confidence that they are standing with the truth. It shows them that there are answers to the objections they commonly hear," writes Brown. "This produces fresh confidence, courage, and boldness. Who can put a price on that?"
Read more.

WORLD
Famed atheist evolutionary biologist Richard Dawkins has defended 
Harry Potter
 author J.K. Rowling from the criticism she has received for her pushback against the efforts of trans activists to "pretend biology doesn't exist." During an appearance on "Piers Morgan Uncensored" on Monday, Dawkins and Morgan discussed the suggestion from a group of scientists to abandon the use of "gendered" terms such as man, woman, mother and father. Morgan slammed the effort to "degender and neutralize language," stating that "they're doing it from a completely false pretext that you can somehow pretend biology doesn't exist, particularly when it comes to someone's sex." After Morgan asserted that "a small group of people have been quite successful actually in reshaping vast sways of the way society talks and is allowed to talk," Dawkins described the phenomenon as "bullying" and denounced the way that Rowling and British philosophy professor 
Kathleen Stock
 have been "bullied" because they spoke out in truth. "There are two sexes," Dawkins asserted. "As a biologist, there are two sexes and that's all there is to it." 
Read more.

MEDIA & ENTERTAINMENT
Greg Locke, whose "Come Out In Jesus' Name" film ran in 2,000 theaters nationwide earlier this month, says all but one location allowed a time of prayer after the movie. The pastor told CP that his hometown theater would not play the pre-recorded deliverance altar call led by Locke. "So I'm sitting there [in the theater where the film is being shown], and the management actually came up to me and said, 'You will not be speaking here tonight. You will not be praying for people and you will leave immediately when this movie is over," he told CP. "So I came out, the lobby was packed with hundreds of people, people standing in line to be prayed for. They came up to me and they said, 'We will have you arrested if you pray for people in this theater. You will leave now, you will not do it in the parking lot." Locke said he was saddened by the decision, adding that some people did follow him back to Global Vision Bible Church, where Locke is the senior pastor. "So we had people follow us back to the church and we did deliverance in the middle of the night in the tent," he explained. The theater's manager declined to provide comment to CP.
Read more.
Actor Jack Black, 53, is reportedly gearing up to play the role of Satan in a Christmas comedy titled "Dear Santa." Black's off-camera resume includes leading a mass prayer to Satan and mocking Christian opposition to same-sex marriage. During his satanic prayer at the 2009 MTV Video Music Awards, the actor declared, "Dear Dark Lord Satan … I wanted to say hi and ask you to grant tonight's nominees continued success in the music industry." The plotline for  "Dear Santa" will reportedly center on a young boy who inadvertently writes a letter to Satan instead of Santa for Christmas, in a twist reminiscent of a 
scene
from last year's Disney+ spinoff series "The Santa Clause," which saw young children dressed as elves hold up letters spelling out the words, "We love you, Satan."
Read more.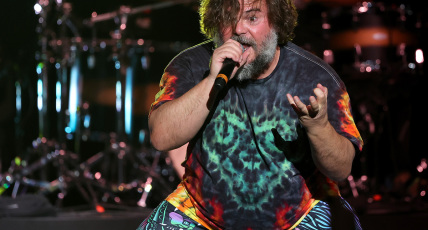 Thank you for spending part of your day with us. We look forward to seeing you again tomorrow! -- CP Editors