CP Daily
Our most popular newsletter, delivering daily news to your inbox.
Good afternoon! It's Thursday, May 5, the National Day of Prayer. Today's headlines include Amazon's commitment to paying travel expenses for employees' abortions, evangelical leaders lobbying Congress for immigration reform, and
Amazon announced Monday plans to cover up to $4,000 in travel expenses to employees seeking non-life-threatening medical treatments, including abortions. The policy, which is effective Jan. 1, is retroactive and applies to "treatment" that is not available within 100 miles of the employee's home or if virtual care is not possible. Among the treatments Amazon has promised to reimburse are abortions, cellular gene therapies, cardiology, and substance abuse disorder services. National Right to Life Committee President Carol Tobias told The Christian Post the move was "disappointing," saying, "I think it means there's a large company that would rather kill their employees' children than have to cover maternity expenses and maternity leave. And, you know, moms can apparently be a financial drag on the corporation. At least that's what they seem to be saying."
Continue reading.
P.S.
 Did you hear?
 We've launched 
The Christian Post Daily
, a podcast featuring the day's top headlines. Listen now on 
Apple
, 
Google
, 
Spotify
, 
Edifi
, or wherever you stream your favorite podcasts. Don't forget to subscribe so that you never miss an update. Stay in the know with 
In Case You Missed It
, a Friday-only newsletter that features a roundup of the top stories of the week. Subscribe 
here
.

TOP STORIES
Bill Hwang, the founder of the more than $10 billion Archegos Capital Management investment firm, is facing life in prison after being arrested and charged last week with racketeering conspiracy, securities fraud and wire fraud offenses. Hwang was once revered as one of the Evangelical world's biggest benefactors. The charges stem from a number of interrelated schemes to unlawfully manipulate the prices of publicly traded securities in Archegos' portfolio, the Justice Department
announced
. Lisa O. Monaco, deputy attorney general for the Southern District of New York, said the announcement "demonstrates the department's unwavering commitment to hold accountable individuals who distort and defraud our financial markets, including those who occupy the C-Suite."
Continue reading.
More than 200 evangelical pastors, activists, and faith leaders participated in approximately 50 meetings with U.S. Senators or their staffs Tuesday and Wednesday to urge members of Congress to fix a "broken immigration system" by working to pass immigration reform, which they say is consistent with their calling as Christians to embrace "radical hospitality." The meetings took place after a group of bipartisan senators reportedly met to discuss options for passing immigration reform in 2022. During a press conference Tuesday, the Evangelical Immigration Table and other faith-based organizations discussed their efforts, with author and Pastor Derwin Gray advocating for "smart, reasonable immigration reform that not only secures our borders ... but also secures the dignity and worth of human beings."
Continue reading.
The Texas Library Association's 2022 four-day conference featured a pair of men in drag and symposiums about teaching kids to become "anti-racists" and embrace other social justice ideologies. The "Recover, Rebalance, Reconnect" event in Fort Worth featured a lineup that included adult entertainers Justin Johnson—dressed in full drag as "Alyssa Edwards"—and "Jenny Skyy," aka Joseph Hoselton. Johnson, who served as the 'After Hours Keynote" speaker on Monday, was a contestant on the television series "RuPaul's Drag Race." The event offered workshops on "Building Community Relationships for LGBTQIA+ Patrons" and "diversifying" library collections with themes of "identity, culture, diversity, bias, and social justice."
Continue reading.

CP VOICES
Wallace B. Henley writes about the "warp effect" he asserts is intensifying in the Biden White House, comparing today's unfolding situation to the Nixon White House. Drawing comparisons from Henley's own memoir on the Nixon years,
The White House Mystique
, which reflects on his time working as a junior aide for three years, Henley writes, "The warp means the lousiest of scoundrels, the ablest liars, through the warp, develop self-images of grandeur and honor, which they foist off on whoever will be gullible enough to fall for them."
Continue reading.
In this op-ed, writer Nicole Russell explains why discrimination policies "should not trump safety and privacy," highlighting the recent sentencing of a male inmate that raped a female inmate in a women's facility at New York's Rikers Island jail. Pointing to recent pressure by such facilities to "bend to a vocal minority and house male prisoners who identify as female with women," Russell explores how such policies are harmful and the ways some women are fighting back.
Continue reading.

FACTS & FIGURES
New research from the Barna Group has revealed more pastors now say they considered quitting their jobs compared to a year ago, fueled by challenges such as loneliness, despair, political divisions, and a drop in church membership. The research shows that 42% of pastors have given serious consideration to quitting full-time ministry within the last year, up from 29% in 2021. More than half of those who considered quitting full-time ministry in the last year cited "the immense stress of the job" as a major factor behind their thinking, with two in five pastors reporting that "I feel lonely and isolated."
Continue reading.

MEDIA & ENTERTAINMENT
Actress Danica McKellar, known by many for her starring role as Winnie Cooper in the ABC series "The Wonder Years," recently took to
Instagram Live
to share details about her relationship with the Lord. The actress, who admitted she struggled with Christianity for many years, explained that her growing connection with God occurred after fellow actress Candace Cameron Bure gifted her a Bible. "I'm not here to preach, but I have so much love in my heart. I just had to share what I'm experiencing and to share a little why I believe it's taken me up to this point to begin this journey ... I can tell you I'm experiencing a relationship with God and Jesus that I've never had before, and it feels miraculous," she told viewers.
Continue reading.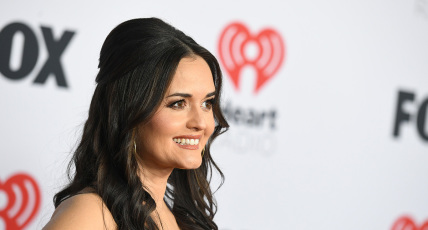 Thank you for spending part of your day with us. We look forward to seeing you again tomorrow! -- CP Editors