10 Memorable Campaign Ads of the 2014 Election: Bibles, Strip Clubs, and Castrated Hogs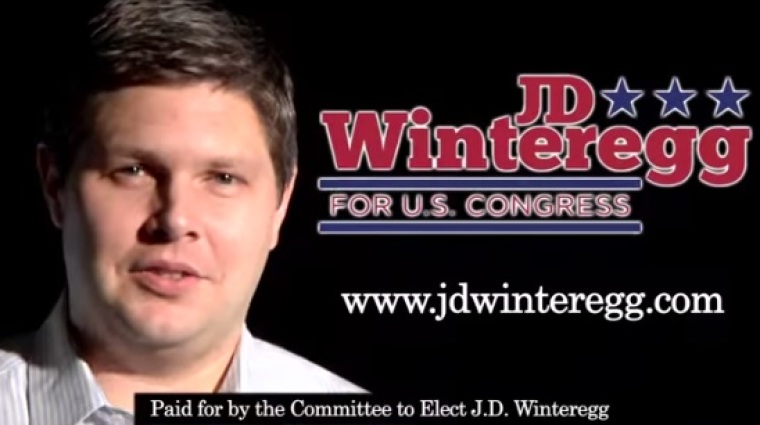 Bibles, strip clubs, guns, "electile dysfunction," and castrated hogs were just a few of the themes in campaign ads for the 2014 midterm elections.
Here are the 10 most memorable ads:
10. Say yes to the wedding dress/Republican candidate.
An ad created by the College Republican National Committee attempted to reach women voters by likening voting to buying a wedding dress. Different versions of the ad were used in various gubernatorial races. Liberals denounced the ad as sexist.
"It's cute that the Republicans who created this ad think young women are still getting married!" Amanda Marcotte wrote for Slate's XX factor, a liberal blog about gender issues. "Hopefully it will be a smashing success, leading us to the next one, where Brittany has to decide between two cupcakes, one called 'the Scott Walker' and the other 'the Mary Burke.' Just remember, only one tastes good if you're considering an abortion!"
9. "I'm waging a war on women? Really?"
Terri Lynn Land, Michigan's Republican candidate for the U.S. Senate, was accused by her male opponent, Democrat Gary Peters of "waging a war on women."
Her simple 30-second response did not require many words:
8. "That's not how you hold a gun."
How does a Democrat remain competitive in the strongly Republican state of Kentucky? Demonstrating mastery with a shotgun can help.
U.S. Senate candidate Alison Lundergan Grimes balances the difficult task of distancing herself from President Barack Obama and criticizing her rival, Republican Minority Leader Mitch McConnell, while also taking aim at clay pigeons.
7. "I'm not ashamed to say that I believe in God, and I believe in His Word."
Another way to run as a Democrat in a red state is to reach out to religious voters by demonstrating your own religiosity. One of the earliest ads of the campaign season showed incumbent U.S. Senator Mark Pryor with his Bible.
The Bible is "my compass. My North Star," he said.
6. MSNBC host: Grimes is disqualified.
Grimes' attempts to distance herself from Obama got a little weird when she refused three times to say whether she voted for him. McConnell was able to exploit that mistake after MSNBC host Chuck Todd said she "disqualified herself" by refusing to answer the question.
5. "Republicans are people, too!"
Republicans are people too, according to an ad created by Vinny Minchillo, who made ads for Republican presidential candidate Mitt Romney.
The ad informs views the Republicans drive Priuses, listen to Spotify and put together Ikea furniture. They can also have tattoos and beards. And, Republicans can be white, black, Hispanic or Asian.
When Stephen Colbert mocked the ad on Comedy Central's "The Colbert Report," for, among other things, using stock photos, the audience could be heard laughing at the ad even before Colbert's satire began.
4. My opponent has strip club money.
In the Florida governor's race, the Florida Republican Party ran an ad criticizing the Democratic candidate (and former Republican governor) Charlie Crist for taking campaign money from a strip club owner. The ad also associates Crist with sex trafficking by citing a Department of Homeland Security official noting that victims of sex trafficking have often worked in strip clubs.
3. Reminder: My opponent needs a wheelchair.
In an apparent act of desperation, fledgling Democratic Texas gubernatorial candidate Wendy Davis criticized her opponent, Greg Abbott, for alleged hypocrisy for seeking compensation after an accident that left him paralyzed. The ad opens with an image of a wheelchair.
Whatever issue Davis was attempting to raise with the ad was lost in the collective shock from journalists that she would even bring up her opponents disability. The ad led to headlines like this one from CNN, "Wendy Davis ad uses wheelchair to criticize paralyzed foe Abbott."
2. "I grew up castrating hogs on an Iowa farm, so I know how to cut pork."
With that sentence, Iowa Republican Joni Ernst introduced herself amid a crowded field of better known Republican candidates. The ad helped propel her to winning the Republican nomination and, at press time, she appears positioned to win Iowa's U.S. Senate seat.
1. John Boehner has "electile dysfunction."
In the Republican primary for Ohio's 8th congressional district, Tea Party candidate J.D. Winteregg tried to unseat House Majority Leader John Boehner with an ad that is a spoof of ads for the drug Cialis. (You can find out what that is for here.) The ad accused Boehner of having "electile dysfunction."
The ad did not get Winteregg elected, but it did get him fired from his job as a professor at a Christian college, Cedarville University. The ad is too inappropriate to post at The Christian Post, but you can watch it here.