After 14-Y-O Daughter Kills Herself, Devastated Parents Want Netflix to Pull '13 Reasons Why'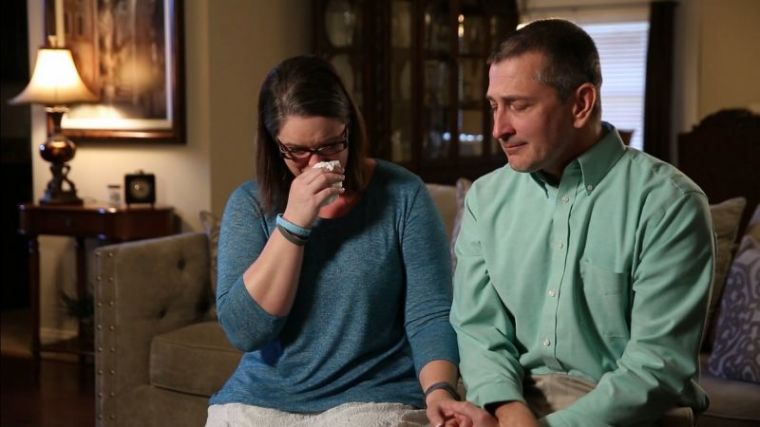 The devastated parents of a 14-year-old girl from Alabama who killed herself last year after binge-watching the Netflix series "13 Reasons Why" are asking for the series to be pulled, saying they are convinced it played a part in their daughter's death.
"I really feel in my heart with all my soul that that show contributed to her passing," says Joseph Bright, the father of Anna Bright, the 14-year-old who killed herself on April 18, 2017.
The mother, Patrice, adds in the video released on Wednesday by the American Family Association, "To portray suicide first of all as an option is not a good thing. To portray it graphically where you can actually see and get that image in your head, it leaves you vulnerable to the enemy's attack, which I think it definitely did for our daughter.
She continued: "It causes suicide to look like an act of revenge, which it is not. It destroys your loves ones, not the people who mistreated you, or were unkind. We've even heard from friends that a text went around after Anna passed away that they were glad that she died. Those are not the people who care about you in the first place."
The parents of the girl insist that suicide destroys a person "completely," and that it devastates their loved ones.
While the circumstances that led to Bright taking her own life are unknown, investigators discovered last year that she had binge-watched the first seasons of the controversial show in one weekend, shortly before her suicide.
In the May issue of the AFA Journal, Joseph Bright admits that the situation is "hard for us to accept," given that as a former pastor he raised his children in a "loving, God-fearing home."
AFA President Tim Wildmon, who the Brights contacted with their story, sent a private letter to Netflix CEO Reed Hastings last month, asking for a meeting to discuss concerns regarding the show.
The letter points out that other teenagers, including 15-year-olds Bella Herndon and Priscilla Chiu, both from California, also took their lives days after watching the suicide of fictional character Hannah Baker on the show.
Wildmon now says that the letter was ignored, and that is why the AFA has launched a petition against "13 Reasons Why" ahead of the planned release of the second season.
"Those dangers are very real. The American Academy of Pediatrics says that suicide has risen to become the second-leading cause of death among teenagers," the conservative group warns.
"Asking Netflix to drop this dangerous television series is the right thing to do. Please sign this petition, then share it as a way to warn other friends, family, and church members about the dangers of '13 Reasons Why.'"
The Netflix series has received similar concerns in the past, though the show-runners and cast have insisted that the story can help teens struggling with suicidal thoughts.
"'13 Reasons Why' is a fictional series that tackles tough, real-world issues, taking a look at sexual assault, substance abuse, suicide and more. By shedding a light on these difficult topics we hope our show can help viewers start a conversation," the cast has jointly said in a video.
"But if you are struggling with these issues yourself, this series may not be right for you, or you may want to watch it with a trusted adult. If you ever feel you need someone to talk with, reach out to a parent, a friend, a school counselor or an adult you trust. Call a local helpline or go to 13reasonswhy.info because the minute that you start talking about it, it gets easier."
Other groups, such as The Parents Television Council, have also recently called on Netflix to delay the release of the second season of the show.
PTC President Tim Winter warned that the delay should be enforced "until experts in the scientific community have determined it to be safe for consumption by an audience that is comprised heavily of minor children."
"When a film or TV series centers entirely on high school-aged children for its storytelling, it is high school and junior high school children who watch and who feel most emotionally-connected to the characters. Grown-ups don't put themselves into the position of high schoolers; but other children do," Winter added.
Watch the video on Anna Bright's story below: