1,800 Soldiers Have Professed Faith in Christ at Missouri Army Base in Last 6 Months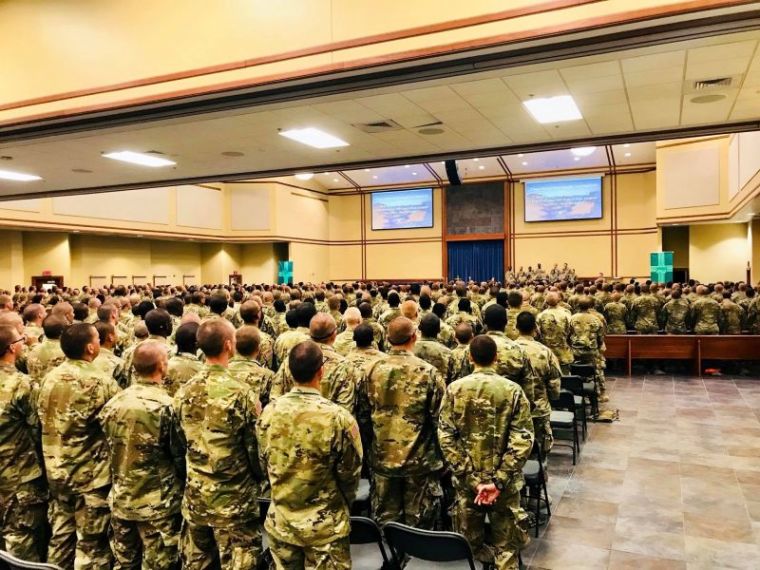 Over 1,800 soldiers have made professions of faith in the last six months at an Army base in Missouri, a chaplain says.
On Sunday, U.S. Army Chaplain Capt. Jose Rondon took to Facebook to rejoice in the fact that nearly 400 soldiers came to faith in Christ that day. And that total is only a small part of a broader revival that has been occuring on at Fort Leonard Wood.
"Today, 380 Soldiers came to salvation in Christ once and for all. Thanks CH Tony Cech for the excellent, clear, and powerful messages during the three services," Rodon wrote in a post. "Since March 11 2018, we have seen 1,839 Soldiers coming to Christ."
In his Facebook post, Rondon shared a video that showed the Main Post Chapel at Fort Leonard Wood packed with soldiers singing along to worship music.
"God's doing an unbelievable work through our military at Fort Leonard Wood, MO.," Rondon added in his post. "May God bring the same powerful conviction of sin and love for Him that we are experiencing at Main Post Chapel all throughout our Nation and His world. Thanks for your love and prayers!"
On July 29, Rondon posted on Facebook saying that 307 Soldiers gave their lives to Christ during three services that day. At the end of July, the total number of salvations was up to 1,459.
Last week, Rondon posted a video of a large group of soldiers attending a service and singing "Amazing Grace."
In a video posted to Facebook about a month ago, Rondon is seen baptizing nine soldiers. A soldier whose name is also Jose, was asked by Rondon to tell the crowd why he was getting baptized.
"I was baptized when I was younger but it wasn't really my decision," Jose explained. "Now it is my decision to follow Jesus Christ as my Lord and Savior."
On that same day, Rondon baptized another soldier who Rondon said can run two miles in 11 minutes.
"It doesn't matter how fast he is," Rondon told the crowd. "He understands that he needs Christ."
Rondon, a native of Venezuela who emigrated to South Carolina, told ChurchLeaders.com last month that he has never seen such a response and desire for salvation in his 25 years of preaching. Rondon holds master's and doctoral degrees from the Southeastern Baptist Theological Seminary.
Dealing mostly with soldiers in basic training, Rondon told the outlet that these soldiers are more open to faith because many of them are separated from family and loved ones for the first time.
"I believe that the message of salvation goes to the core of these individuals because they have finally come to realize that God has always been there to love them, guide them and protect them," Rondon stated. "In other words, through the encouragement of God's Word life starts to become meaningful for these soldiers in training as they realize that it is not as bad as they think with the help of God and the encouragement of practical applications to live tougher lives in the Army setting."
In June, Rondon wrote on Facebook that the key to the recent rise in baptisms has been intentionality.
"If we want to see people coming to Christ we must be intentional to speak clearly about 1. Our problem as sinners; 2. God's solution to the sin-problem through Christ's death, burial, and resurrection; and 3. Our individual response to God's desire to forgive us of our sins and His desire that nobody will go to Hell," Rondon wrote. "To Christ's church: Stay INTENTIONAL."
Retired Major General Doug Carver, who serves as executive director of chaplaincy for the North American Mission Board, told Baptist Press that the faith movement going on at Fort Leonard Wood is only part of a larger movement of God happening across the military.
"Our troops, who are increasingly hungry for truth and relevancy in their lives, are finding a faith that works through a personal relationship with the Lord Jesus Christ," Carver was quoted as saying. "The current spiritual awakening at Fort Leonard Wood is indicative of a great move of God taking place within the Armed Services today."
The rise in baptisms come as there has been some hostility towards faith and religious beliefs in the military in recent years.
Most recently, the Military Religious Freedom Foundation, a secular group that presses for separation of church and state, demanded Defense Secretary Mike Pompeo launch an investigation against an Air Force brigadier general because he runs an online prayer blog.