2,000 Killed by Boko Haram, Corpses 'Strewn on Streets,' Churches Burned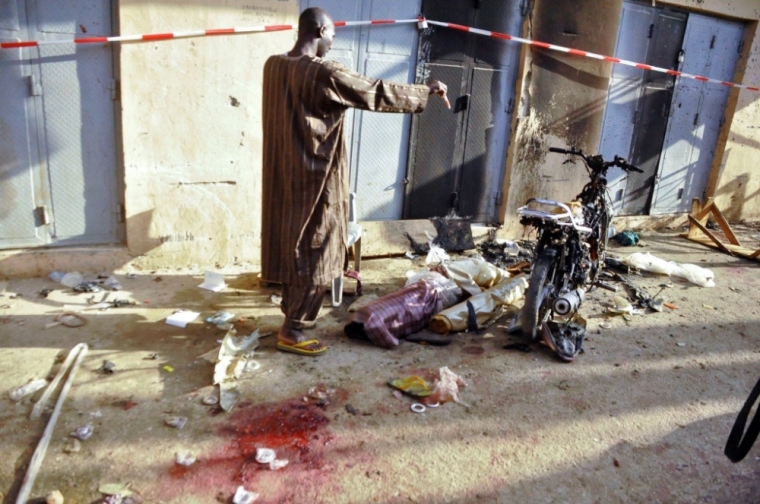 Nigerian terror group Boko Haram is believed to have killed close to 2,000 people in an attack on the city of Baga and surrounding villages in Borno state. Christian leaders have confirmed that several churches have also been burned in the attack.
"I received a message of the Christians Association of Nigeria, the association of Christian churches in Nigeria, which states that in that area Boko Haram has burned several churches and caused numerous victims" said Fr. Patrick Tor Alumuku, director of social communications of the Archdiocese of Abuja.
Boko Haram first attacked Baga on Wednesday, over-running a key military base there. Scores of people fled the surrounding area, and media reports have noted different estimates for the numbers of killed — though Musa Alhaji Bukar, a senior government official in the area, said that close to 2,000 people have died.
BBC News and other sources reported that the dead have not been buried yet, and corpses are strewn on the streets in Baga.
"I escaped with my family in the car after seeing how Boko Haram was killing people ... I saw bodies in the street. Children and women, some were crying for help," Mohamed Bukar, one of the people who managed to escape, told Reuters.
Nigerian lawmaker Maina Maaji Lawan said that Boko Haram, which has been fighting against the Nigerian government and against Christians since 2009, now controls more than 70 percent of Borno state.
"The indiscriminate killings went on and on and on," he said of the latest attack.
The jihadists have also reportedly been setting up checkpoints in the area and killing people trying to escape.
Lawan estimated that as many as 10,000 people have fled to neighboring Chad since Saturday, in hopes of escaping the violence.
Fr. Patrick noted that although Nigerian national media have placed the number of those killed in the past few days smaller than 2,000, that is simply an attempt "not to further inflame the minds."
The priest added that Muslims suffer heavily during Boko Haram's raids as well.
"When those of Boko Haram arrive in a major city they make no distinction between Christians and Muslims, and the population flees, without distinction of religion. Boko Haram separates Muslims from Christians only in the smaller villages," he said.
"Next to the combatants from Nigeria, Boko Haram has been strengthened by jihadist members from Libya and Mali. Their goal is to create a caliphate in northern Nigeria."
Nigeria recently found itself at No. 10 on persecution watchdog group Open Doors' list of countries where Christians are most heavily targeted for their faith, largely because of the actions of Boko Haram.
The terror group has also looked across Nigeria's borders and launched a number of attacks against Cameroon, though has been defeated in key battles. Cameroon President Paul Biya has called for international help in the war against the jihadists, saying that Boko Haram has become a global threat.
"A global threat calls for a global response. Such should be the response of the international community, including the African Union and our regional organizations," he said in speech to diplomats on Thursday.