7 Churches Burned in 2 Weeks: 'Racism Is Alive in St. Louis,' Pastor Says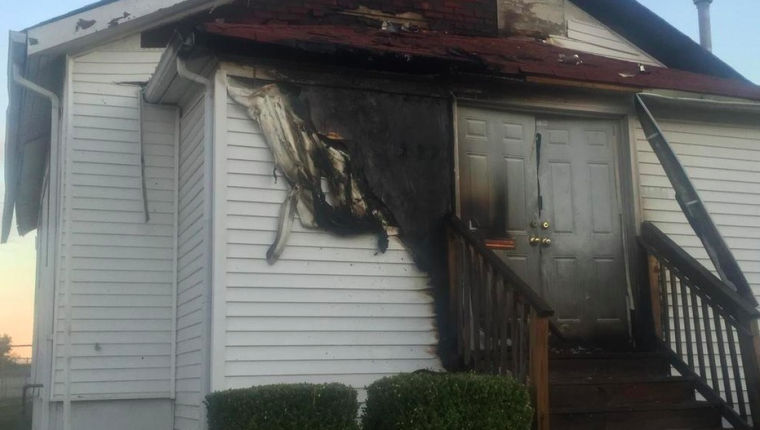 Religious leaders in St. Louis suspect racism could be to blame for what became the city's seventh church fire to occur in less than two weeks on Thursday, but authorities have not yet pinpointed what motivated the arson attacks.
Since Oct. 8, more than half a dozen churches, which all vary denominationally, have been targeted in what police believe to be deliberate acts of arson. The latest attack occurred on Thursday at the downtown Shrine of St. Joseph Church, which sustained fire damage to its rectory doors.
Police found similarities in the arson attacks in that the fires at all seven churches were similarly set and occurred when the church was empty. The attacks have occurred at predominantly black congregations located near Ferguson, with the exception of St. Josephs although it is located in a predominantly black neighborhood.
On Wednesday, the Rev. Mike Kinman, an Episcopal priest at St. Louis' Christ Church Cathedral who is white, attended a local unity prayer service at one of the churches that was targeted to showcase support. He said that he believes the attacks were racially motivated.
"Holy God … if we ever needed a wake-up call to believe that racism is alive in St. Louis — if this is not it, I don't know what it could be," Kinman said.
Church burnings were commonly acts of white supremacist terrorism that occurred in the South prior to the Civil Rights Movement.
St. Louis Fire Chief Dennis Jenkerson said that it's too early to pinpoint a motive at this stage.
"It could be someone who has a beef against the Church, somebody who might have some mental issues. It runs a gamut until we capture the person or persons," Jenkerson said.
St. Louis Metropolitan Police Chief Sam Dotson said the fires are still being investigated and there are currently no suspects even though a $9,000 reward is on offer for anyone with information that leads to an arrest. He did not rule out racism as a possible motivation but agreed with Jenkerson that it could be anything.
"… It's impossible to ignore that this kind of crime aggravates old wounds, old wounds that were never properly or fully healed," Dotson said before vowing to bring justice to the community. "Whoever this person is, they've picked a fight they can't win."
New Northside Missionary Baptist Church was among those targeted and the church's pastor, Roderick Burton, called the attacks "troubling" but praised the community for uniting at such a difficult time.
"I've been surprised at the apathetic response. ... Fires are being lit at churches. It doesn't take much to say, 'We're with you,'" Burton said.
"Our biggest concern is for whomever is doing this," he continued. "We want them to get help. We want them to stop, absolutely, and I think people would like to know what is the motivation behind it.
Other churches targeted include New Life Missionary Baptist Church, Bethel Non-Denominational Church, St. Augustine Catholic Church, Ebenezer Lutheran Church and the New Testament Church of Christ.
"It is arson," said St. Louis Fire Captain Garon Mosby. "These are being intentionally set. This is not spontaneous combustion, so they are not occurring on their own."
Dotson added: "Whoever is out there trying to scare us, whatever they think they're trying to accomplish, they will not succeed."