Air Conditioners, Refrigerators as Big a Threat as ISIS, John Kerry Says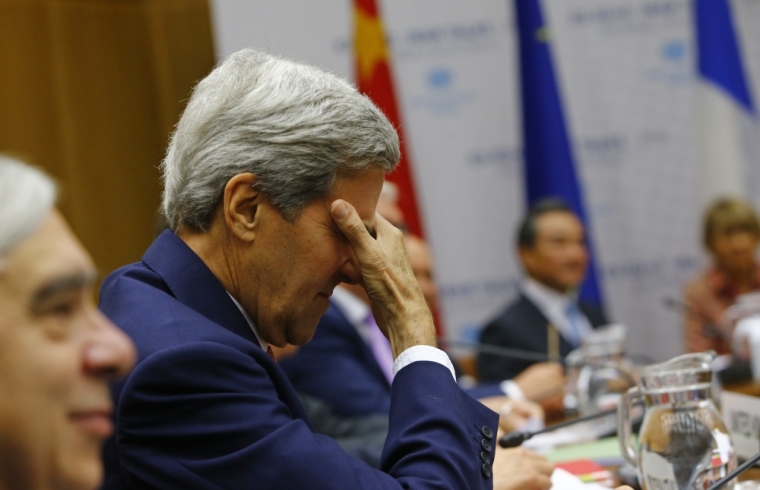 Secretary of State John Kerry has insisted that although some people have a hard time believing it, dangerous chemicals found in refrigerators and air conditioners pose as big of a threat as the Islamic State terror group to the world.
"Yesterday, I met in Washington with 45 nations — defense ministers and foreign ministers — as we were working together on the challenge of [the Islamic State], and terrorism," Kerry said on Friday during climate deal negotiations in Vienna, according to The Washington Examiner.
"It's hard for some people to grasp it, but what we — you — are doing here right now is of equal importance because it has the ability to literally save life on the planet itself."
Kerry said that certain chemicals such as hydrofluorocarbons are a potent source of greenhouse gas emissions, which contribute to global warming and environmental degradation, a topic which he has often spoken out about.
Back in September 2014, Kerry suggested that the United States has a biblical "responsibility" to "confront climate change," which includes protecting "vulnerable Muslim majority counties."
"Confronting climate change is, in the long run, one of the greatest challenges that we face, and you can see this duty or responsibility laid out in Scriptures clearly, beginning in Genesis," Kerry said at the time.
"And Muslim-majority countries are among the most vulnerable. Our response to this challenge ought to be rooted in a sense of stewardship of Earth, and for me and for many of us here today, that responsibility comes from God."
Conservative personalities, such as radio host Rush Limbaugh, derided Kerry's 2014 comments, however.
"I don't believe ... I don't believe I heard that! I don't believe what I just heard. So it's okay to cite the Bible. It's okay to broom the separation of church and state when talking about global warming outreach with Muslims. This was at a special ceremony in Washington last Wednesday about this global warming business, and it's supposed man-made causes," Limbaugh said at the time.
Political commentator Glenn Beck added that IS is a much greater threat than climate change.
"We have ISIS happening. We have beheadings going on … We have children holding up severed heads. What does he say we have a responsibility to protect the Muslim world against?" Beck asked back then.
In March, Kerry officially recognized IS' slaughter of Christians, Yazidis and other religious minorities in Iraq and Syria as a "genocide," something which persecution watchdog groups had long called for.
"One element of genocide is an attempt to destroy an ethnic or religious group in whole or in part. We know that Daesh has given some of its victims a choice between abandoning their faith or being killed. And that, for many, is a choice between one kind of death and another," Kerry said at the time.
"The fact is that Daesh kills Christians because they are Christians, Yazidis because they are Yazidis, Shia because they are Shia. This is the message it conveys to children under its control, that it's entire worldview is based on eliminating those who do not subscribe to its perverse ideology."
The Washington Examiner noted that Friday's negotiations are aimed at matching Environmental Protection Agency regulations that would ban HFCs in America, and promote alternative chemicals in their place.
President Barack Obama's administration has focused heavily on tackling climate change as part of the president's final year in office, as Americans are set to vote for a new leader in November.