Alibaba Promises 1 Million US Jobs; Trump Calls CEO Jack Ma 'Great Entrepreneur'
Jack Ma, billionaire founder of Chinese e-commerce giant Alibaba, has promised the creation of 1 million U.S. Jobs over the next 5 years.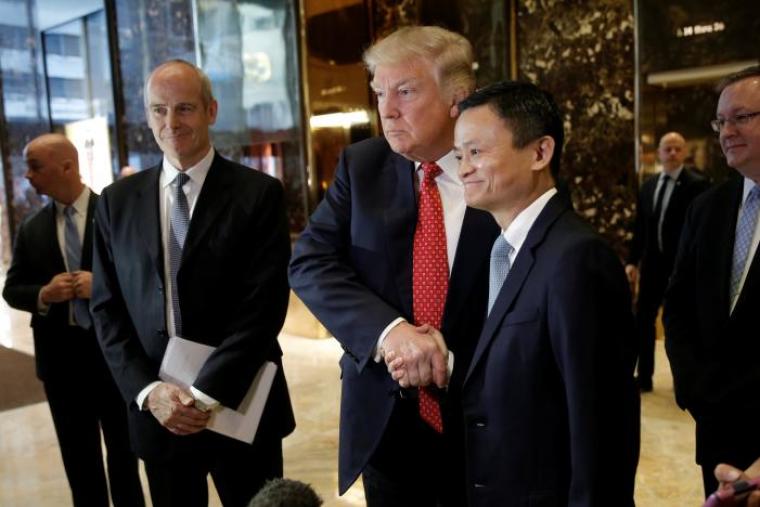 The announcement was made after a 40-minute meeting between Jack Ma and President-elect Donald Trump held in the Trump Tower in New York City on Monday.
"Jack plans to share how Alibaba will create 1 million U.S. jobs by enabling 1 million small businesses to sell American goods to China and Asian consumers on the Alibaba platform," Brion Tingler, head of external affairs at Alibaba, said in a statement provided to CNNMoney.
Ma, Asia's richest man, had lauded Donal Trump as a "smart man -- who will never neglect the relationship between China and America," in an interview last year. And his meeting with Trump comes amid mounting tensions between the Chinese administration and the American President-elect.
Trump, who recently strong-armed automakers like Fiat and Ford to bring more jobs to America, praised Ma after the meeting as a "great, great entrepreneur and one of the best in the world."
"We had a great meeting," Trump told the press pool at Trump Tower. "It's jobs. You just saw what happened with Fiat where they're going to build a massive plant ... in Michigan. And we're very happy. And Jack and I are going to do some great things."
However, Ma's plan to create a million new jobs by helping U.S. entrepreneurs and small business owners sell their products and services to Chinese consumers has been met with some skepticism.
Alibaba's Executive Chairman claims that exposing U.S. companies and individuals to the Chinese and other South Asian markets will create American jobs and increase U.S. exports. Realistically, though, Alibaba is increasing investment in the United States with the hopes that small businesses will sell items on its e-commerce site instead of rivals like Amazon and eBay due to better incentives such as user data and logistics.
The Chinese company expects the increased demands from Asian consumers for those American goods to necessitate hiring increases by U.S. brands as they work to meet the heightened demand.
And while the promise of a million new U.S. jobs certainly makes it look like the President-elect is keeping his election campaign promises, neither Trump nor Ma elaborated on whether these would be full-time corporate jobs in the U.S. It is a far more likely scenario that these jobs would just be a part of the third-party network of sellers on Alibaba's e-commerce sites, many of whom likely also sell products on other e-commerce sites, such as Amazon and eBay, according to Market Watch.
While the real world results of this announcement remain to be seen, Jack Ma is already reaping the rewards of getting an endorsement from Trump with Alibaba stock going up by 1.5% in early trading on Monday.