American Atheists President David Silverman Suspended After Complaint, Investigation Launched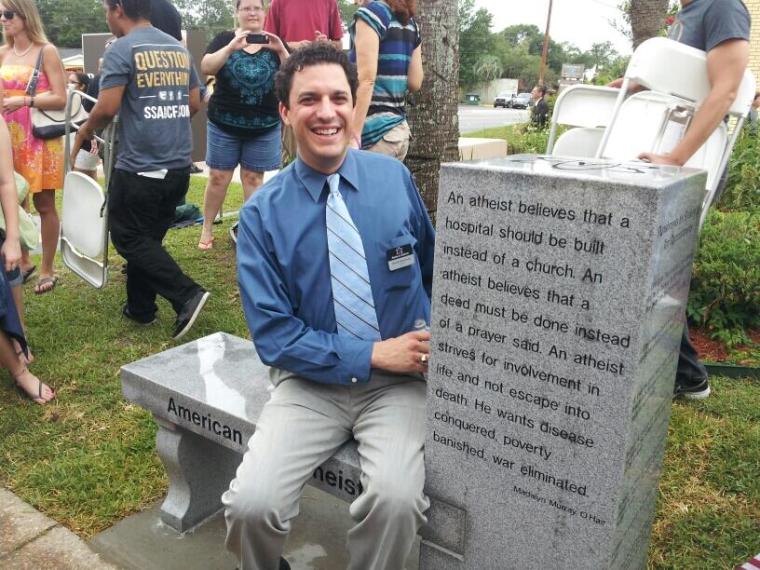 David Silverman, president of American Atheists, one of the largest secular organizations in America, has been temporarily suspended following an undisclosed complaint that has prompted the group to launch an internal investigation.
"On the evening of Saturday, April 7, 2018, the American Atheists Board of Directors received a complaint regarding David Silverman, the president of American Atheists. The board takes very seriously the concerns expressed and, in accordance with organization policies, the board has placed Silverman on leave while an independent investigation is conducted. Silverman has pledged his full cooperation with the investigation," read a statement by American Atheists Board of Directors Chair Neal Cary on Tuesday.
Cary revealed that he and Vice President Kathleen Johnson will carry out Silverman's duties while he is on leave.
"While Mr. Silverman is on leave, American Atheists will continue our work protecting the separation of religion and government, elevating the voices of atheists in our nation's public discourse, and supporting our members and atheist communities across the country," Cary added.
"We are committed to transparency and openness about this process and will release more information as it becomes available."
The Christian Post contacted American Atheists for more information and received an email on Wednesday from Nick Fish, national program director of American Atheists, stating: "The allegations relate to alleged violations of the American Atheists employee code of conduct and staff handbook. Because this is a personnel matter, we cannot go into any more specifics about the allegations. We take all allegations very seriously, which is why the board took action immediately to place Mr. Silverman on paid leave and begin a formal investigation."
American Atheists is known for putting up billboards around the country urging people to "skip church" during Christmas and Easter time.
In December, a billboard ad campaign in Albuquerque, New Mexico, and Dallas, Texas, suggested that the birth of Jesus Christ is "fake news."
"Everyone knows that the stories we're told in church aren't the truth," Silverman claimed at the time.
"People ignore that fact because they enjoy the community, the friendship, and the traditions that go along with religion. But we're here to tell them that churches don't have a monopoly on any of that. There's a fantastic and vibrant community of atheists all across the country creating their own traditions and lifelong friendships."
Silverman told CP in an interview in December 2014 that his organization is looking to help atheists living with theists in mixed families.
"We are using these billboards to spur intra-family communication, because we believe the communication is desperately needed," he said.
The atheist community, which continues to rise as a share of the American population, was hit by a controversial story in March when physicist and skeptic author Lawrence Krauss was accused of sexual misconduct.
Multiple women have accused Krauss of sexual harassment over the past several years, according to BuzzFeed News, but the physicist has denied the allegations.
Still, three major atheist organizations announced in March that they will be cutting ties with Krauss, including the American Humanist Association, the Freedom From Religion Foundation, and The Center for Inquiry.
"There was a time when nontheist organizations wouldn't appropriately address unethical conduct of their leaders, seeming to prioritize outspoken secularism over all else," said AHA Executive Director Roy Speckhardt. "But I'm pleased that some progress is apparent with the nontheist movement waking up to the need to seek justice."