#AnywhereButTARGET Campaign Intensifies Ahead of Christmas as Conservatives Warn of 'Radical Agenda'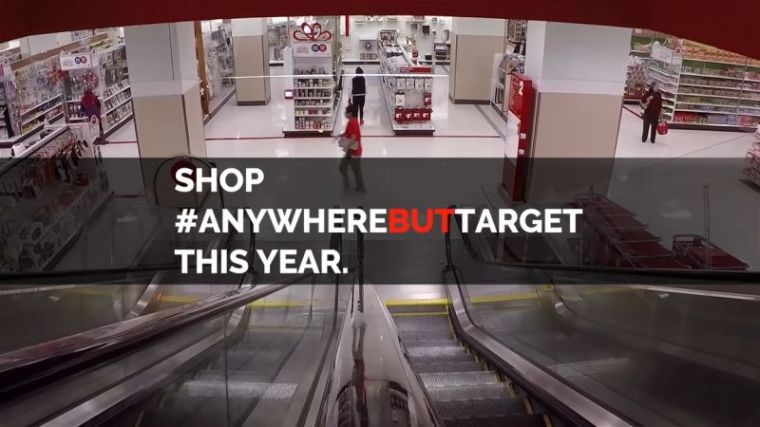 Conservative groups critical of Target's bathroom policies are stepping up their boycott against the chain store giant this coming Christmas, urging conservative shoppers not to support what they call a "radical social agenda."
Lance Wray, executive director of watchdog group 2ndVote, said that last year its #AnywhereButTARGET campaign helped see a three percent drop in sales over the Christmas season for Target, along with a 43 percent profits decrease.
"However, despite the impact to their bottom line, Target continues to champion the left's radical agenda. Not only does Target contribute financially to liberal activists, but its dangerous policy of allowing men into women's restroom and bathroom facilities remains in place," Wray said Tuesday.
"Let's continue holding Target accountable for its left-wing activism! Our #AnywhereButTARGET campaign continues this Christmas shopping season and we need your help spreading the word."
A short video by 2nd Vote released on Tuesday chronicles the dispute conservatives have with the retailer, stemming from April 2016, when Target announced that biological males who identify as females can use women's bathrooms and changing facilities, and vice versa.
Despite what it called declining sales and forced store closures, the conservative group pointed out that Target has refused to reverse its policy, and called for the boycott to continue.
Other groups, such as the American Family Association, also continue their campaign against Target, with over 1.5 million people signing the group's pledge to boycott the chain store giant.
AFA has warned that women and children are in danger due to such bathroom policies.
AFA Senior Vice President Buddy Smith said last year: "Let's hold firm to our conviction that men have no place in women's restrooms and dressing rooms and continue our pledge to boycott Target stores, especially through the Christmas shopping season."
There have been several reported cases of men attempting to film women and girls undressing, including one from August 2016, when a convicted sex offender in Albany, Oregon, was arrested after looking up girls' skirts at a Target store.
Target CEO and Chairman Brian Cornell has denied that any financial troubles the retailer is experiencing are due to a conservative boycott, however. The company has insisted that its policy is aimed at welcoming all guests.
"We welcome transgender team members and guests to use the restroom or fitting room facility that corresponds with their gender identity. ... Everyone deserves to feel like they belong," Target said in 2016.
USA Today reported earlier in November that Target's latest quarter report, ending Oct. 28, brought good news for the company with an uptick in sales and traffic.
Target revealed that sales at stores open for a year or more "crept up 0.9% in the three-month period ending Oct. 28, while overall sales rose 1.4% to $16.7 billion as compared to $16.4 billion in 2016."
"With earnings of 87 cents per share, the quarter beat the expectations of S&P Global analysts by two cents," USA Today noted.
Watch 2nd Vote's Target warning video below: