Appeals Court Upholds DC Metro's Ban on Catholic Church's Christmas Ad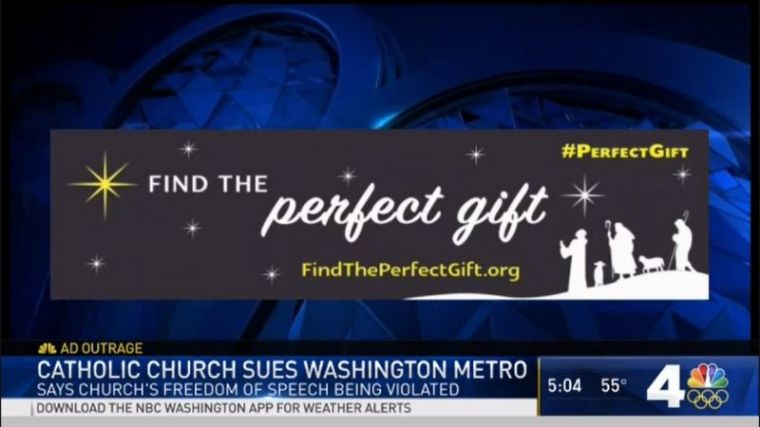 A three judge panel of the District of Columbia Circuit Court has upheld the Washington Metropolitan Area Transit Authority's rejection of a Christmas ad by the Catholic Church.
In a decision released Tuesday, the panel ruled against the Catholic Archdiocese of Washington, which had sought to include their "Find the Perfect Gift" ad campaign.
While current United States Supreme Court nominee Brett Kavanaugh was part of the panel, according to the decision's text he did not participate in the panel opinion.
Judge Judith Rogers authored the court opinion, concluding that WMATA was not unlawfully suppressing the Archdiocese's viewpoints with its ban on religious ads, because banning all religious ads in a "non-public forum," regardless of sect, doesn't violate religious freedom. 
The ruling labeled metro's ad space a "non-public forum," which meant that the government could restrict what advertising it allowed, including religious and political content. 
Not allowing the limitation of ads to commercial content would "upend decades of settled doctrine permitting governments to run transit companies without establishing forums for debate on the controversial issues of the ages and of the day," Rogers wrote, "including not only the subject of religion but also politics and advocacy issues."
Rogers also concluded that the archdiocese's argument would open the gates to allow for all kinds of advertising content that most people may find objectionable. 
"Were the Archdiocese to prevail, WMATA (and other transit systems) would have to accept all types of advertisements to maintain viewpoint neutrality, including ads criticizing and disparaging religion and religious tenets or practices."
In a concurring opinion, Judge Robert Wilkins wrote that the WMATA ban "does not take sides" and "restricts all speech on the topic equally, without discriminating within the defined category."
"Practicality permits government to restrict content within its nonpublic forums in a prospective, administrable manner, but once the parameters of those restrictions are set, administrators cannot further discriminate against a disfavored view that falls within those predetermined parameters," continued Wilkins.
In 2015, WMATA banned advertisements of a religious or political nature, reportedly in response to receiving many complaints from multiple groups over their content.
Last November, the archdiocese filed a lawsuit against WMATA for rejecting a Christmas season ad that was part of their "Find the Perfect Gift" campaign.
At specific issue for the archdiocese was WMATA Guideline 12, which stated "Advertisements that promote or oppose any religion, religious practice or belief are prohibited."
"The ban effectively silences any viewpoint that might challenge commercialism or consumerism or attempt to emphasize the religious reason for the season," stated the lawsuit.
In December, U.S. District Judge Amy Berman Jackson ruled against the archdiocese's request for an injunction, arguing that is was not likely to succeed in its case.
In January, the United States Justice Department filed an amicus brief on behalf of the archdiocese, urging the appeals court to overturn the Jackson ruling.
"WMATA's rejection of the Archdiocese's proposed Christmas advertisement in this case falls squarely within the class of viewpoint discrimination," stated the DOJ brief.
"In the context of Christmas advertising, WMATA's guidelines permit messages which generally express commercial or charitable viewpoints, but exclude messages that express religious viewpoints."