Atheists Who Want Air Force General to Be Court-Martialed Want to 'Give God a Dishonorable Discharge,' Religious Liberty Group Says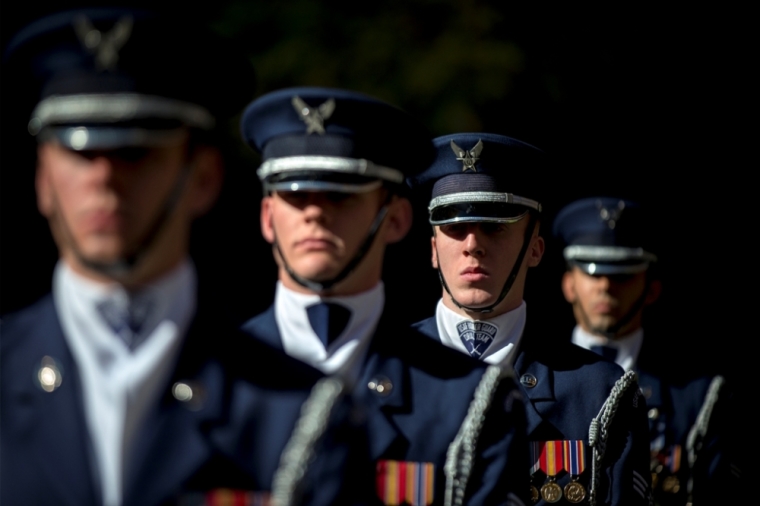 Air Force Maj. Gen. Craig Olson made "entirely appropriate" remarks when he thanked God during a National Day of Prayer event earlier this month, a religious liberty group has said. The Foundation for Moral Law argued that the Military Religious Freedom Foundation, which is calling for Olson to be court-martialed, is a "radical fringe element" that want to see God be given a "dishonorable discharge."
"The Constitution General Olson took an oath to defend, and which he has defended throughout his career, also protects his right to free exercise of religion and to share his beliefs with others. The same Congress that passed the First Amendment, also passed a bill to establish congressional chaplains," Foundation President Kayla Moore said in a statement on Wednesday.
"General Olson spoke of the role of faith and prayer in his own life and military career, entirely appropriate for a Day of Prayer event. He made no representation that he was speaking for the Air Force or expressing official Air Force policy."
Olson gave thanks to God in a speech at a National Day of Prayer Task Force event on May 7, stating: "He put me in charge of failing programs worth billions of dollars. I have no ability to do that, no training to do that. God did that. He sent me to Iraq to negotiate foreign military sales deals through an Arabic interpreter. I have no ability to do that. I was not trained to do that. God did all of that," Olson said.
The Air Force general, who is the program executive officer for C3I and Networks at Hanscom Air Force Base, Massachusetts, asked the audience to pray for Defense Department leaders whom he said "need to humbly depend on Christ." He also asked for prayers for troops preparing to deploy so they can "bear through that by depending on Christ."
Olson's comments drew the ire of Mikey Weinstein and his MRFF group, who in a letter to Air Force Chief of Staff Gen. Mark Walsh, called Olson's speech "a brutal disgrace to the very uniform he was wearing" and demanded that the general be "immediately, aggressively, and very visibly brought to justice for his unforgivable crimes and transgressions."
Foundation for Moral Law Senior Counsel John Eidsmoe, a retired Air Force Judge Advocate, further argued that Weinstein and the MRFF "distort the U.S. Constitution and do not speak for American military personnel."
Eidsmoe added that the atheist group is a "radical fringe element that wants to give God a dishonorable discharge from the Armed Forces and to suppress the rights of military personnel to pray to Him or mention His Name."
Welsh has not yet addressed the letter asking to have Olson court-martialed, though the Air Force General has received the support of notable evangelical Christians, such as the Rev. Franklin Graham.
Graham suggested in a Facebook post earlier this week that atheist groups are trying to "bully Christians into silence."
"I guess this group would've tried to court martial George Washington when he prayed at Valley Forge! Come on — whose civil liberties are really being infringed on here? They want to bully Christians into silence," the evangelical said.