Backslider's Graphic Testimony on Prostitution Cut Short as Church Members Shocked by Details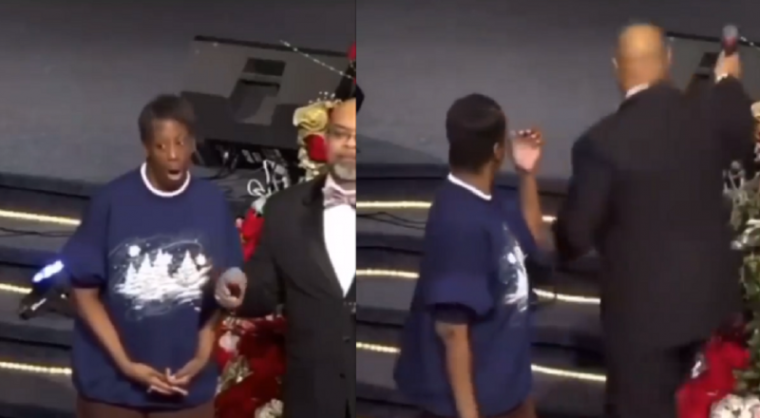 A backslider's church testimony, which was cut short after she began sharing graphic details about how God saved her from the grip of prostitution, has become one of 2018's first viral videos and has sparked a debate about the appropriate way to conduct a testimony service.
The woman shown in the video that appears to have been first shared on social media by @TrevonPowell, gives her name as Sonia Menzie (phonetic spelling). It is unclear which church the testimony was shared at.
"I'm a backslider y'all pray for me," Menzie told the congregation after introducing herself in the clip. She then went on to explain how only a fool makes a mockery out of God.
"He's nothing to be played with. A fool in his heart says there is no God but God is real," she said before launching into details of her past that appeared to shock the church's leaders, including a male parishioner who held a microphone for her as she spoke.
"I used to come home drunk from school. Laying up with mens. Out there prostituting. Having oral sex ...," she said. As she went into more detail the male parishioner pulled the microphone away from her while surprised "oohhs" erupted from the congregation.
"Thank you. Remember you in prayer," a woman at the church's podium told the backslider as she took control of the microphone. "Anyone else have a word from the Lord? A testimony of God's goodness?"
Many people like Bishop Talbert Swan of Spring of Hope Church of God in Christ in Springfield, Massachusetts, and entertainer KevOnStage appeared to share the video for its comic value.
"See, this is why so many churches stopped having testimony service!" wrote Swan in a New Year's Day tweet.
For KevOnStage, he argued that the woman should have been allowed to finish her testimony since she was invited to speak.
"This is why we can't have testimony service no more, because this woman says she's a backslider and then she's gon' tell you how God delivered her," he quipped in his comments on the video. "...We take testimony service away because we don't want to hear people's stories. It would be too crazy."
Some people suggested Menzie may have had a learning disability and did not know how to properly articulate her experience.
One YouTube user, Estella Butler, suggested Menzie may have been suffering from drug addiction.
"Drugs maybe, she came to the church for help. Most people don't know church etiquette, including the 'saints' who been in church for decades. The church should've planned and caught it before it started. They always announce how the doors to the church are open. They need to intervene and guide people through the process," she wrote.