Baltimore Ravens Super Bowl Champion Diagnosed With Debilitating, Deadly Disease Decries Maryland's Assisted Suicide Bill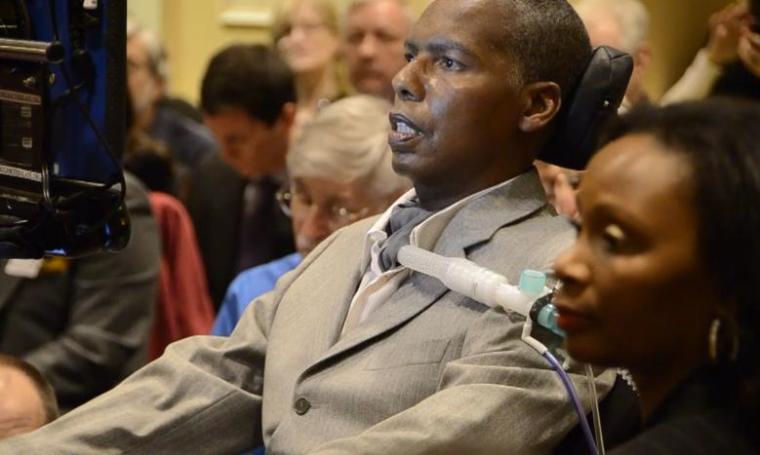 As a number of states are considering right-to-die legislation, a retired Baltimore Ravens Super Bowl champion linebacker, who is now battling the debilitating and fatal disease known as ALS, decried a Maryland physician-assisted suicide bill, saying it would rob society of "God given" life.
Forty-five-year-old O.J. Brigance, who won a Super Bowl ring with the Ravens in 2000, testified last Tuesday before the Maryland Senate Judicial Proceedings Committee hearing on the state's new "death with dignity" bill. The bill would make it legal for patients prognosed with six months or less left to live, who are mentally competent, to ask their doctor for life-ending medication.
"Every day, every hour, every minute, every second is God given and valuable," Brigance told lawmakers. "To enact this legislation would [risk] lives and possible future contributions of Marylanders."
Brigance, who is now confined to a wheelchair and needs a computerized machine to talk and a ventilator to breathe after battling ALS for the last eight years, explained that people are still capable of life-changing contributions to society even though they are facing inevitable and painful deaths. He added that allowing individuals to take their own lives would be a "tragedy."
"Since being diagnosed, I have done greater good for society in eight years than my previous 37 years on earth," Brigance asserted. "I don't know how many days I have left to live but everyone has a purpose. The thought that there would be a legal avenue for an individual to take their own life in a moment of despair, robbing family, friends and society of their presence and contribution to society deeply saddens me and is a tragedy."
Brigance explained that when he was first diagnosed with ALS in 2008, he did not know what to do. The disease, also known as Lou Gehrig's Disease, causes individuals to gradually lose control of their body to the point where they eventually are no longer able to talk, move their limbs, swallow their own food, or breath on their own.
Although Brigance's mobility is nowhere comparable to what it was when he was in the NFL, he does not let his condition get in the way of living his life to the fullest and maintaining a career as the Ravens director of player development.
"Following an accomplished athletic career, the thought of losing the ability to run, walk, talk and live ability to breath on my own is an overbearing burden. The prognosis for someone diagnosed with ALS is two to five years," Brigance explained. "The consideration of the journey which lay before me and my wife was daunting but as we grieved, we came to the decision that adverse circumstances in no way delete our destiny in one's life."
"There have been days where it has been challenging," Brigance added. "However, I did not create my life so that I have the right to negate my life. Because I decided to live life the best I could, there has been a ripple effect of goodness in the world."
Brigance and his wife, Chanda, started the Brigance Brigade Foundation to help people and families diagnosed with ALS get the financial support necessary during their time of need.
Brigance also released a book in October 2014 called Strength of a Champion: Finding Faith and Fortitude Through Adversity, which he says has inspired others to find the courage within themselves to keep fighting for life.
"With the use of no hands, I was able to write a book two years ago," Brigance said. "I can't tell you of the numerous people who have been encouraged in their own personal struggle because I decided to face my struggle against ALS."
Other states along with Maryland and the District of Columbia that are weighing right-to-die legislation this year include California, Connecticut, Iowa, Kansas, Massachusetts, Missouri, New Jersey, New York, Oklahoma, and Wisconsin.
Maryland Gov. Larry Hogan told reporters that he is undecided on whether he would the legislation into law should it pass in the General Assembly. He added that his Catholic faith would not weigh in such a decision.
"I'm kind of torn," Hogan said. "I've got some issues about helping people terminate their lives, but I also understand that some people go through some difficult times and they're suffering. I see both sides of the issue."