Baptist Preacher Blasts Congregant During Sermon for Sleeping; 'Hissy Fit' Goes Viral
Pastor Jim Standridge of Immanuel Baptist Church Tells CP He Was Addressing 'Unresolved Issues'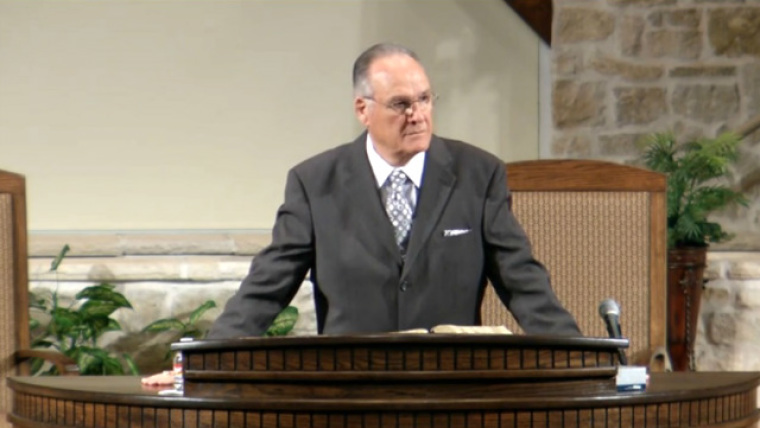 A video excerpt of a sermon by Jim Standridge, senior pastor of Immanuel Baptist Church in Skiatook, Okla., has gone viral on the Internet, inspiring hundreds of comments about the Christian minister storming from the pulpit during his message to admonish a congregant for falling asleep and then calling out other worshippers, one of whom he decries as "the sorriest church member I have."
The five-minute excerpt was posted earlier this week by "Stuff Fundies Like" on YouTube with the title "Jim Standridge Throws a Hissy Fit." The video has about 83,000 views and well over 500 comments from offended, outraged and concerned viewers, some of whom have suggested that Standridge's words to congregants lacked love, failed to represent God's grace, and reflected arrogance.
However, Pastor Standridge, who has been serving Immanuel Baptist Church for the past 24 years, told The Christian post Thursday that he could not care less what a few strangers on the Internet think about his message. The minister insisted that he held no anger toward online commenters.
"It was a family meeting, not a national meeting," he told CP, adding that his May 19, 2013, sermon was full of grace and love. "But you can't judge a man by one message."
"If you knew me, you'd know that I'm a loving, caring guy," he said, adding that he did not expect complete strangers on the Internet to know that about him.
While the hour-long sermon, made available on Immanuel Baptist Church's website and shown below, reveals Pastor Standridge sternly speaking out several times against congregants, the matter-of-fact minister said he was only doing what he has been given the authority by the church to do — help keep the house in order by holding parishioners accountable.
Standridge, who described himself as "an old sovereign grace Baptist with the soul of a Pentecostal," stressed that in his sermon he was dealing with "unresolved issues."
"It was hard (the message), but you can't say it wasn't loving," he added, insisting that the sermon "brought order."
Standridge is described in his staff biography on Immanuel Baptist Church's website as "not your ordinary, run-of-the-mill pastor" with a preaching style that is "Spirit-led, encouraging, and practical, engaging the believer in matters of the heart and barring no word in confronting the follower of Christ on issues of sin and iniquity."
"Bro. Jim toes the line, counsels with the Word of God, and has a heart for God and the church," adds the description.
The pastor, who said he was "a hard businessman" before taking on God's call to ministry, told CP that his heart was to help Christians mature in their faith. He emphasized that he was neither a fan of legalism nor "cheap grace."
As for Brother Cox whom Pastor Standridge called out during his sermon for trying to "establish his own kingdom" in the sound booth, the minister said the men hugged it out after the service, with the technician affirming his support of the pastor who has been shepherding him for more than 20 years.
Pastor Standridge's 'Hard' But 'Loving' Sunday Sermon
"I would like you to think about the reality of your life and who you are, and how important that is. For who you are, the gift that God has given you is very important," Standridge begins his May 19 morning message. However, about one minute and 10 seconds into the sermon, upon noticing that the did not have the full attention of one particular congregant, the preacher changes gears.
"Son, look at me," Standridge begins, smiling at the youth. "I'm the man, baby. I didn't come here on no skateboard. There's churches that will teach you and set up a skateboard for you, but I'm trying to set up eternity for you. I love you." Pointing, he looks around and adds, "I love that boy right there."
Standridge eventually goes on with his sermon about the importance of every individual's life, using a worshipper by the name of Joe to illustrate how a relationship with Jesus can make a difference in a person's life. Citing Joe's divorce and "first family" he lost to "the courts," the minister then applauds the man for being simple in his approach to Christ. However, he then calls out Joe's current wife from the pulpit and demands that she stop questioning her husband's "dignity" and "insight" and instead submit to him.
"While he may not be as smart as you think he might be, I say to you, he's smarter than you ever thought about being," Standridge says, intermittently pointing at the woman, identified as Angela. "For he has wisdom upon his head and he has wisdom upon his shoulders because he's totally dependant and relying upon the Lord Jesus Christ."
The preacher, who had declared that he was there "representing the king of kings and lord of lords," again picks up his message to the general congregation, but at 40 minutes into his remarks, Standridge appears to lose all patience with the young man who again had nodded off.
Storming from the pulpit, Standridge says, "Don't you lay your head. I'm important, I'm somebody."
"Now you might do your English teacher that way, but I'm not teaching English, I'm teaching eternal life here," he adds. "I love you. You know I love you. Have I convinced you that I love you?"
In the video, Standridge appears to physically help the young man lift his head.
"You say, 'Well, he may never come back.' Well he aint' here now," Standridge says afterward as he walks between the main aisle separating the pews. The minister then calls out a man whose wedding he was to officiate and declares him "the sorriest church member" who is "not worth 15 cents," presumably because he has been absent from church. Standridge follows up the open rebuke with a bear hug and tells the man he loves him.
As he heads back to the pulpit amid a quiet congregation, the minister says, "You can't get this at any other church in town. Now y'all don't want me, all you got to do is tell me. We won't have a church fight."
After stating how he and his wife have no problem packing up and finding another church to guide, Pastor Standridge says, "But I'm not interested in recreating the prostitute of the church."
Conscious that he was being recorded as at other times of preaching, Standridge asks, "Are y'all keeping the camera back there on me, in the little video room? Good." He then admonishes the cameraman for "having a little attitude adjustment that we're gonna fix."
After soon declaring that he "really feels good now," Standridge, now back at the rostrum, returns to his sermon, intermittently continuing to call out congregants.
Watch the five-minute excerpt of "Jim Standridge Throws a Hissy Fit" below:
Watch Pastor Jim Standridge's full May 19, 2013 morning sermon: