Baptist Youth Pastor's Wife Says She's Wearing Hijab on Mondays to Show Solidarity With Muslims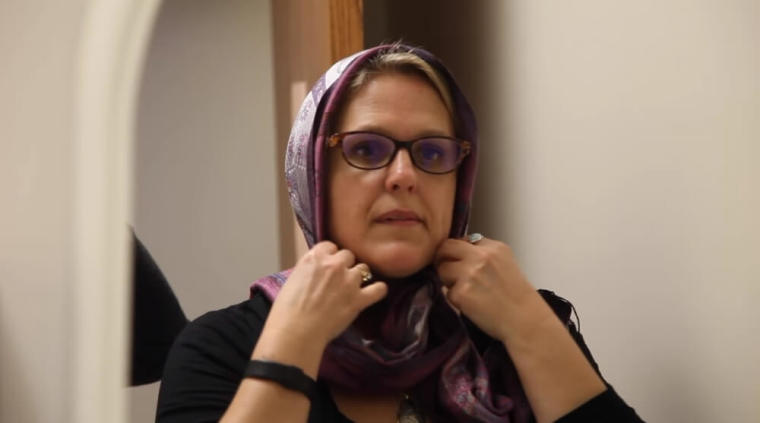 A Baptist high school guidance counselor and youth pastor's wife in Missouri is wearing a hijab (Muslim headscarf) to school every Monday as a way of showing solidarity with Muslims and combating anti-Muslim rhetoric.
Martha DeVries, the guidance counselor at North Kansas City High School, began wearing a headscarf to school every Monday after she was inspired by a sermon from her pastor in which he challenged his congregants to make a difference.
"I am a follower of Jesus. I do believe that I am called to live out His message. I believe that the most important commandment is 'love God and love others,'" DeVries said in an interview with the Religion News Service. "It's not my intent to take on the establishment of the entire Islamic faith, it's my intent to say I stand with Muslim women in my community."
DeVries said that wearing a headscarf helps her identify with with Muslim women at a time when moderate and peaceful Muslims are being overshadowed by the violent and brutal acts of Islamic extremists, who are affecting how many perceive Muslims as as whole.
"I've just gotten very tired of hearing so many negative things, like Donald Trump's 'let's not let Muslim immigrants into the United States' and the scare on Syrian refugees," DeVries told Baptist News Global.
"I said I'm trying to walk in someone else's shoes," she added.
DeVries asserts that there is little difference between her and Muslim women and she doesn't see the reason why people should be frightened over a person's religion or cultural dress.
"What's a headscarf? I mean, its three yards, if even," she told RNS. "That shouldn't separate me from someone whose humanity is so much like mine."
DeVries asserted that her purpose is to let Muslims know that there are "Christians in this nation who love them."
"I think of Muslims in my community as my neighbors and it's not my job to judge them or determine their salvation," she explained. "My job is to love them."
DeVries said she has not been treated any differently while wearing the headscarf in public but added that she gets "knowing looks" from Muslim students that she considers to be "appreciative smiles."
"Especially on Mondays when I am wearing the hijab, I feel like I get knowing looks from Muslim students and appreciative smiles but I could just be imagining that too," DeVries stated. "I figure one of these days, some girl is going to come to me and say you are not wearing that scarf correctly, let me show you how to put it on your head but so far, that hasn't happened."
Mike DeVries, Martha's husband and a part-time youth pastor, is supportive of his wife's decision to wear a hijab on Mondays, pointing out that there are students from over 60 nations that attend North Kansas City High.
"We have encountered a lot of Muslim students and the ones we have encountered have been sweet, good kids," DeVries told Baptist News Global.
In the interview with RNS, Mike DeVries said Christians need to be less judgmental.
"I just think Christians need to take a step back and evaluate their actions and are we really making a difference in what our purpose is by bashing people," he said.
DeVries' hijab-wearing campaign comes after former Wheaton College political science professor Larycia Hawkins gained headlines when she wore a hijab throughout the Advent to show solidarity with Muslims.
Hawkins was later placed on administrative leave after she wrote in her Facebook post explaining that she was wearing the hijab because Muslims and Christians worship the same God.
"I stand in religious solidarity with Muslims because they, like me, a Christian, are people of the book. And as Pope Francis stated last week, we worship the same God," Hawkins wrote. "But as I tell my students, theoretical solidarity is not solidarity at all. Thus, beginning tonight, my solidarity has become embodied solidarity."
Wheaton College's provost Stanton Jones recommended in January that Hawkins' employment be terminated. Although the school and Hawkins reconciled last month, Hawkins left the school and was later hired by the University of Virginia.
Although Hawkins, DeVries and other women believe that they are showing solidarity with Muslim women by wearing hijabs, two Muslim women originally from Egypt and India argued in December that non-Muslims who wear hijabs for good intentions are actually helping solidify a conservative Muslim ideology that is oppressive toward women.
"We reject this interpretation that the 'hijab' is merely a symbol of modesty and dignity adopted by faithful female followers of Islam," the women wrote. "As Americans, we believe in freedom of religion. But we need to clarify to those in universities, the media and discussion forums that in exploring the hijab, they are not exploring Islam, but rather the ideology of political Islam as practiced by the mullahs, or clerics, of Iran and Saudi Arabia, the Taliban in Afghanistan and the Islamic State."
"We don't buy it," the women added. "This ideology promotes a social attitude that absolves men of sexually harassing women and puts the onus on the victim to protect herself by covering up."