Obama to Christian Novelist Marilynne Robinson: 'Folks Who Take Religion the Most Seriously' Often 'Suspicious' of Others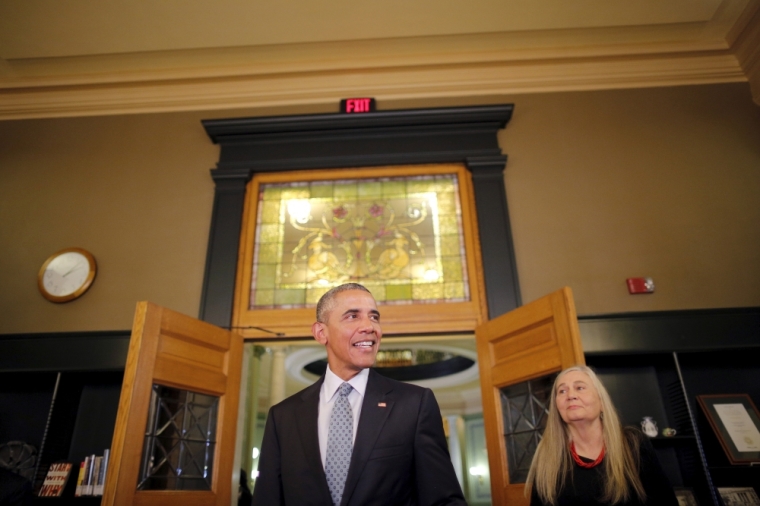 People who take religion the most serious are often the most "suspicious of those not like them," President Barack Obama claimed while interviewing a Christian novelist.
Instead of being interviewed, Obama interviewed novelist Marilynne Robinson in Iowa as part one of a two-part series for The New York Review, a semi monthly magazine.
Robinson, considered by many as a master of narrative storytelling, deals with a lot of Christian themes and characters in her work. Obama said he is an admirer of Robinson's work and declared he read her work Gilead, which is set in Iowa, while he campaigned there as a candidate.
"How do you reconcile the idea of faith being really important to you and you caring a lot about taking faith seriously," asked Obama, "with the fact that, at least in our democracy and our civic discourse, it seems as if folks who take religion the most seriously sometimes are also those who are suspicious of those not like them?"
Robinson countered that those "arming themselves and so on — against the imagined other, they're not taking their Christianity seriously." Robinson argued that "Christianity is profoundly counterintuitive" because of commands like "Love thy neighbor as thyself." She asserted that the command calls believers to a higher purpose and standard that is "difficult" and challenging.
The president said one of his favorite characters in fiction is John Ames, a Christian pastor from the book Gilead.
Obama used much of the interview with Robinson to portray himself above the partisan politics and disconnect with middle America.
"But there's this huge gap between how folks go about their daily lives and how we talk about our common life and our political life. And people describe it as the distance between Washington and Main Street," declared Obama.
"But it's not just Washington; it's the way we talk about our politics, our foreign policy, our common endeavors. There's this gap.
"And the thing I've been struggling with throughout my political career is how do you close the gap. There's all this goodness and decency and common sense on the ground, and somehow it gets translated into rigid, dogmatic, often mean-spirited politics," he added.
Obama also touched on culture and "homespun values," which is evident in Robinson's work. The president said those types of values reminded him of his grandparents who grew up in Kansas.
Complimenting Robinson for powerfully touching on those aspects in her work, Obama made a poignant point that those values seem "really foreign to popular culture today, which is all about celebrity and being loud and bragging."
In 2011, Robinson penned an article in The New York Times titled "The Book of Books: What Literature Owes the Bible," in which she praised the narrative strength of Scripture and credited its influence for the great works of Western Civilization.
Robinson, who is a Christian and admirer of John Calvin, was raised in the Reformed tradition, and is now a member of the Congregational United Church of Christ.
Robinson's novel Gilead won the Pulitzer Prize in 2005 and she was honored, along with a dozen other writers, by Obama with the National Humanities Medal in 2012.