Ben Carson Says Ray Rice and Wife Need Help, Not 'Demonizing;' Some Critics Disagree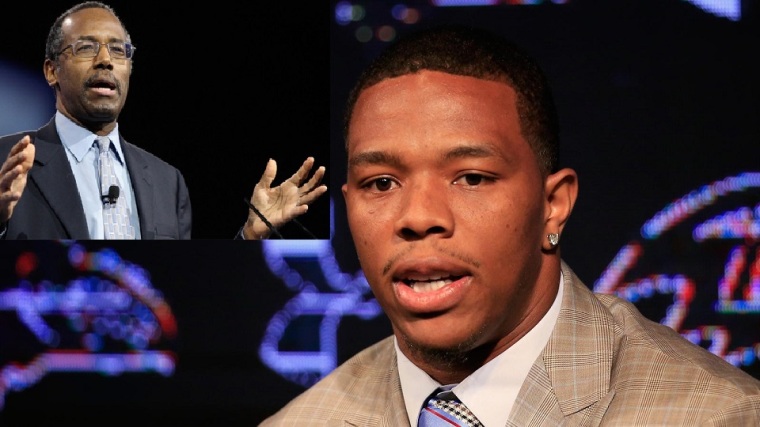 Potential 2016 presidential contender and renowned neurosurgeon Ben Carson is receiving heavy criticism online after calling for caution in responding to the domestic violence case involving former Baltimore Ravens running back Ray Rice and advising that the player needs help, not "demonizing."
"I'm hopeful that they will get some help for him. Obviously, anyone who would do something like that needs some help," Carson said Monday on "The Steve Malzberg Show" on Newsmax TV.
"Let's not all jump on the bandwagon of demonizing this guy. He obviously has some real problems. And his wife obviously knows that because she subsequently married him. So they both need some help," continued Carson.
"Rather than just jumping on an impunitive bandwagon [of criticism], let's see if we can get some help for these people," he ended on the subject.
Rice, 27, and his then fiancée, Janay Palmer, were arrested in February and charged with assault after they had a physical altercation at the Revel Casino in Atlantic City, New Jersey. Celebrity news website TMZ subsequently published a video showing Rice pulling her body from an elevator.
On March 27 Rice was charged with aggravated assault, which carries a maximum five year prison sentence, after the case was presented before a grand jury, according to SB nation.
The couple then got married on March 28. The NFL suspended Rice for the first two games of the 2014 NFL season as punishment. NFL Commissioner Roger Goodell later revealed at a press conference that future incidences of domestic violence in the league would attract stiffer penalties as part of a new policy.
On Sept. 8 TMZ released additional footage from the altercation sparking a media firestorm and the Ravens terminated Rice's contract. The NFL has also suspended him indefinitely.
Since Carson's comments some admirers have publicly criticized him on his Facebook page for it.
"Your comment today about Ray Rice was irresponsible, to say the least, and the only person you should have made a comment about is the victim. What is wrong with you? This man had a whole team around him that he could have asked for help. Who does she have? You should have told people to stop blaming her," wrote Liz Hines.
"I have been seeing references to a statement attributed to you regarding 'not demonizing' the football player guilty of domestic violence. Although I am a huge fan of yours, I must take exception to that statement. Having been a victim of domestic violence, I can assure you that these abusers are already demonized ... just ask any victim who looked into their eyes and saw only bottomless evil while they were being abused. Any man who abuses once, will do it again and again, each time worse than the last," wrote Joey Mortrude Daniel.
Janay Rice came to her husband's defense in a response she reportedly posted on Instagram Tuesday morning.
"I woke up this morning feeling like I had a horrible nightmare, feeling like I'm mourning the death of my closest friend," she wrote.
"But to have to accept the fact that it's reality is a nightmare in itself. No one knows the pain that [the] media and unwanted opinions from the public has caused my family. To make us relive a moment in our lives that we regret every day is a horrible thing. To take something away from the man I love that he has worked his ass off for all his life just to gain ratings is horrific," she continued.
"THIS IS OUR LIFE! What don't you all get? If your intentions were to hurt us, embarrass us, make us feel alone, take all happiness away, you've succeeded on so many levels. Just know we will continue to grow and show the world what real love is! Ravensnation we love you!" she ended.